Nenana River Paddle Rafting
Back to Excursions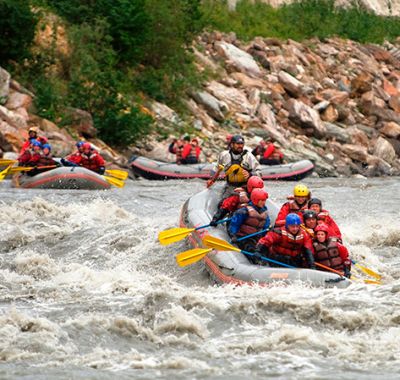 Denali Princess Wilderness Lodge
Duration

Approximately 3 1/4 hours

Price From

$139.95 Per Person
Strenuous Activity Level
Shopping Opportunities
Maximum risk and maximum fun! This trip offers a fantastic whitewater adventure. There's no better way to experience Denali than by rafting in Alaska's top whitewater rafting destination—Nenana River. After hearing safety instructions, gear up in a life jacket, neoprene booties and a one-piece dry suit specifically designed for whitewater, grab a paddle and 'dig in' for an exhilarating ride down the Class III-IV Nenana River Canyon. You will paddle under the direction of your guide and will work together as a team as your raft descends through a dozen major rapids up to Class IV+ in difficulty on one of Alaska's most spectacular rivers. Your guide will offer insights of the region's natural history and entertain you with interesting tales of local lore. Marvel at Alaska's dramatic mix of jagged mountains, rolling hills and pristine alpine terrain—this is an adventure that you'll never forget!
SPECIAL NOTE
Minimum age is 18. Maximum height is 6'8″. Maximum weight is 280 lbs. Pregnant women or guests with back, neck or shoulder problems are not allowed to participate. Must be in good physical condition and able to swim 200 yards. Dress in warm layers. Bring extra pair of socks. Tour operates subject to meeting a minimum number of participants. Tour operator reserves the right to switch guests from paddle tour to oar raft tour on the same section of river. Time on raft is approximately 2 hours.
CALL 800.426.0500 TO BOOK
---
DENALI EXCURSIONS
An array of optional excursions are available at the Denali Princess Wilderness Lodge. Visit the Tour Desk at the Denali Princess Lodge or call 1-800-426-0500.
PURCHASE LAND EXCURSIONS
Princess is pleased to offer you the ability to purchase your excursions for the land portion of your cruise tour using the Cruise Personalizer at princess.com. Included is a list of land excursion options customized to best fit your itinerary with detailed information about each excursion. When you are ready to purchase your land excursions, go to the Cruise Personalizer and have your booking number and credit card information ready to enter. Princess accepts Princess Visa, Visa, MasterCard, American Express, Discover and Diner's Club. Confirmed excursions can be viewed at any time in your detailed itinerary in the Cruise Personalizer and will also be listed on your Welcome Envelope that you'll receive at each cruise tour location during your Princess Land & Sea Vacation. Land excursions may be cancelled up to three (3) days prior to travel without a cancellation fee. Cancellations made within three (3) days of travel are 100% non-refundable. Note that excursion availability is based on cruise tour date, capacity limitations and suitable weather conditions. Land excursions are subject to change at any time and are available on a first-come, first-serve basis. Guests are encouraged to book early as space is limited. Prior to travel, print your Travel Itinerary which will have a list of all your confirmed land excursions. Make your cruise tour with Princess an even more memorable one and purchase your land excursions today.
CANCELLATION POLICY
Alaska Land Excursions, purchased through the Cruise Personalizer, may be cancelled up to three days prior to travel without any cancellation fees. Land Excursions cancelled prior to the cancellation deadline will be refunded to the credit card that you provided in the Cruise Personalizer to purchase your tours. Excursions cancelled within three (3) days prior travel are subject to a 100% cancellation fee, unless the operator, at their sole discretion, is unable to operate the program due to unforeseen circumstances. All sales of tours booked while on your land tour are considered final at the time of purchase and are 100% non-refundable except in the case of an operator approved cancellation.