Tundra Mountain Golfing
Back to Excursions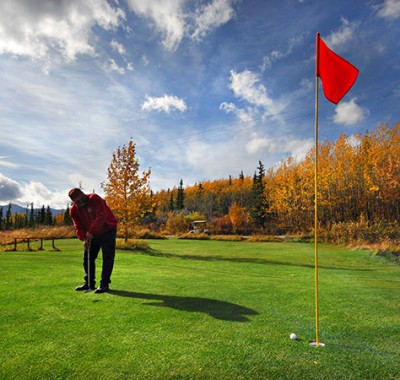 Denali Princess Wilderness Lodge
Duration

Approximately 3½ hours

Price From

$94.95 Adult
$45.95 Child
Moderate Activity Level
Shopping Opportunities
Hit the greens during this spectacular expedition to Black Diamond Golf Course—a one-of-a-kind Alaskan course surrounded by stunning scenery. The adventure begins with a picturesque drive to the rugged, nine-hole course bordered by gorgeous mountains and tranquil Otto Lake. Constructed in 1995 on Alaskan tundra with little to no topsoil, this unique course offers challenging grass that evokes Scottish courses of yesteryear. Hazards include moose prints, tundra marsh, and permafrost so the ground can be totally frozen in some areas and a crafty fox that enjoys stealing balls. Since unlimited greens fees, golf balls, club rentals and a power golf cart are included, you can relax and take in the magnificent panoramic views, clean air and robust colors spanning this 3,000-yard, par-35 course. Relish the vibrant wildflowers surrounding each hole and watch for wildlife while teeing off under the Midnight Sun. Receive a souvenir logo golf ball so you can take a piece of this inimitable place home.
SPECIAL NOTE
The Black Diamond Golf Course was built on frozen ground; therefore, there will be uneven surfaces. Pricing includes power golf cart, clubs and golf balls. Both left and right handed clubs available. No specific attire required to golf. Wildlife sightings are likely but not guaranteed. Round of golf is approximately 3 hours. This option does not include a meal.
CALL 800.426.0500 TO BOOK
---
DENALI EXCURSIONS
An array of optional excursions are available at the Denali Princess Wilderness Lodge. Visit the Tour Desk at the Denali Princess Lodge or call 1-800-426-0500.
PURCHASE LAND EXCURSIONS
Princess is pleased to offer you the ability to purchase your excursions for the land portion of your cruise tour using the Cruise Personalizer at princess.com. Included is a list of land excursion options customized to best fit your itinerary with detailed information about each excursion. When you are ready to purchase your land excursions, go to the Cruise Personalizer and have your booking number and credit card information ready to enter. Princess accepts Princess Visa, Visa, MasterCard, American Express, Discover and Diner's Club. Confirmed excursions can be viewed at any time in your detailed itinerary in the Cruise Personalizer and will also be listed on your Welcome Envelope that you'll receive at each cruise tour location during your Princess Land & Sea Vacation. Land excursions may be cancelled up to three (3) days prior to travel without a cancellation fee. Cancellations made within three (3) days of travel are 100% non-refundable. Note that excursion availability is based on cruise tour date, capacity limitations and suitable weather conditions. Land excursions are subject to change at any time and are available on a first-come, first-serve basis. Guests are encouraged to book early as space is limited. Prior to travel, print your Travel Itinerary which will have a list of all your confirmed land excursions. Make your cruise tour with Princess an even more memorable one and purchase your land excursions today.
CANCELLATION POLICY
Alaska Land Excursions, purchased through the Cruise Personalizer, may be cancelled up to three days prior to travel without any cancellation fees. Land Excursions cancelled prior to the cancellation deadline will be refunded to the credit card that you provided in the Cruise Personalizer to purchase your tours. Excursions cancelled within three (3) days prior travel are subject to a 100% cancellation fee, unless the operator, at their sole discretion, is unable to operate the program due to unforeseen circumstances. All sales of tours booked while on your land tour are considered final at the time of purchase and are 100% non-refundable except in the case of an operator approved cancellation.