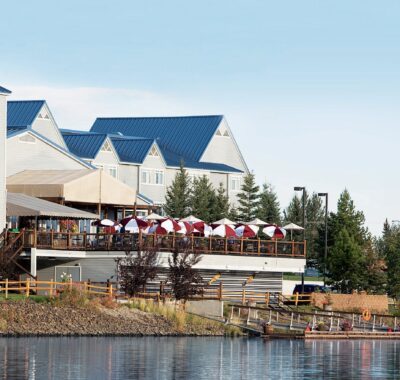 Fairbanks Princess Riverside Lodge
Address

4477 Pikes Landing Road
Fairbanks, AK 99709

Telephone

(907) 455-4477

Fax

(907) 455-4476
Directions
Photo Gallery
If you're searching for authentic hotels in Fairbanks, Alaska, look no further. Princess' Fairbanks Riverside Lodge is the answer. Fairbanks was founded by miners consumed with the gold fever that swept Alaska at the turn of the century. As gateway to Alaska's rugged interior, Fairbanks is where the real Alaska begins — the Alaska of the Northern Lights and the Midnight Sun. Here, at the edge of Alaska's vast wilderness frontier, is a haven of warm service and exceptional comfort — the Fairbanks Princess Riverside Lodge.
The most refined hotel in Fairbanks, Alaska is also its best situated. Ideally located just minutes from the Fairbanks International Airport and Alaska Railroad depot. The property is also convenient to the downtown area and the University of Alaska Fairbanks as well as popular attractions such as the El Dorado Gold Mine, the Riverboat Discovery, and Pioneer Park.
Lodge Features
For Business or Pleasure
There are other Fairbanks hotels, but none quite compare to Princess. After a day in the Golden Heart City, return to this quiet retreat on the banks of the Chena River, a pristine and iconic river that runs through charming Fairbanks. Enjoy a delicious and relaxing meal at one of our dining venues. With beautifully landscaped grounds and a terraced deck extending to the water's edge, the Fairbanks Princess Riverside Lodge is a perfect choice for your Fairbanks hotel accommodations.
Princess Comfort in The Heart of Alaska
Each of our Fairbanks hotel rooms is elegantly appointed with comfortable amenities. Guest rooms have two double beds or one king bed and cable television. Fairbanks hotels also provide beautiful scenery, and ours is no exception. Many rooms, including the Caribou Suite, boast commanding views of the Chena River.
The Choice is Yours
Anytime you stay with Princess, you're sure to sample excellent cuisine in remarkable settings. The Fairbanks Princess Riverside Lodge carries on that tradition. Enjoy sophisticated cuisine and serene views of the Chena River while dining in the Edgewater Restaurant. Visit Trackers Bar & Grill for spirits, appetizers and light fare or stroll out to the Riverview deck to sip your favorite beverage and select from a menu of tantalizing treats while relaxing at river's edge.
Your stay in our premiere Fairbanks hotel isn't complete without some classic souvenirs. Season's Gifts and Coffee offers a variety of snacks and your favorite espresso beverage in addition to a fine selection of collectible art crafted by native Alaskans.
Meetings and Events
For business or pleasure, our team is on hand to make any meeting a special function. The Fairbanks Princess Riverside Lodge offers complete business services, audio-visual support and the Golden Heart City's finest catering. Fairbanks hotels provide the perfect setting for company retreats with a side of scenic relaxation.
Our two full-service meeting rooms can be configured to support a wide range of group sizes and needs. The Jade Room can accommodate up to 210 guests while the Copper Room can host smaller groups of up to 100 guests. Adjacent rooms are designed to be transformed into a variety of larger configurations to provide a fireplace, food service area, telephone and built–in media center with capacity for an additional 370 people.
For more casual gatherings, we recommend The Fireside located in our second-floor lobby. The Sterling and Lodgepole suites also afford privacy and comfort for executive sessions. Our Alaska hotels provide unparalleled opportunities to mix business, pleasure and peace of mind. Conference, Meeting & Event information at Fairbanks Princess Riverside Lodge