Black Diamond Treasure Hunt & Dining
Back to Excursions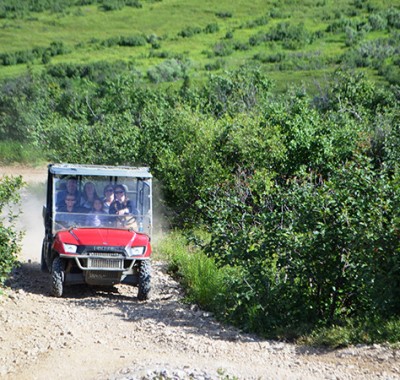 Denali Princess Wilderness Lodge
Duration

Approximately 3½ hours

Price From

$174.95 Adult
$79.95 Child
Meal Provided
Moderate Activity Level
Shopping Opportunities
Take an exciting personal and private trip into the wilds of Alaska on a fantastic covered ATV while your experienced guide drives you though the backcountry of Alaska! Experience an amazing adventure hunting Alaska treasures. Feel exhilarated while working together to find hidden views, secret sights, quarts and granite rocks, coal, and much more. Pick out a treasure for you to take home! This experience takes you back on old coal mining trails and spills you out onto the Dry Creek River Bed where Athabascan Indian artifacts have been found in archaeological digs. As you navigate the trails, you will get you closer to finding a rustic pavilion where a full service family style meal is served to satisfy any adventurer's appetite!
SPECIAL NOTE
Dress in warm layers. Bring a camera. Ride will be bumpy. Pregnant guests or guests with back or neck problems are not allowed to participate. The ATV can accommodate up to 5 passengers in addition to your driver-guide. Time on treasure hunt is approximately 1½ hours.
CALL 800.426.0500 TO BOOK
---
DENALI EXCURSIONS
An array of optional tours is available at Denali Princess Wilderness Lodge during the summer season. To add an activity to your stay, please call 1-800-426-0500 for reservations or visit the Tour Desk at Denali Princess Wilderness Lodge.
PURCHASE LAND EXCURSIONS
Land excursions may be cancelled up to four (4) days prior to travel without a cancellation fee. Cancellations made within three (3) days of travel are 100% non-refundable. Note that excursion availability is based on cruise tour date, capacity limitations and suitable weather conditions. Land excursions are subject to change at any time and are available on a first-come, first-serve basis. Guests are encouraged to book early as space is limited. Prior to travel, print your Travel Itinerary which will have a list of all your confirmed land excursions. Make your cruise tour with Princess an even more memorable one and purchase your land excursions today.
CANCELLATION POLICY
Land Excursions cancelled prior to the cancellation deadline will be refunded to the credit card that you provided to purchase your tours. Excursions cancelled within three (3) days prior travel are subject to a 100% cancellation fee, unless the operator, at their sole discretion, is unable to operate the program due to unforeseen circumstances. All sales of tours booked while on your land tour are considered final at the time of purchase and are 100% non-refundable except in the case of an operator approved cancellation.