Black Diamond ATV Adventure & Backcountry Dining
Back to Excursions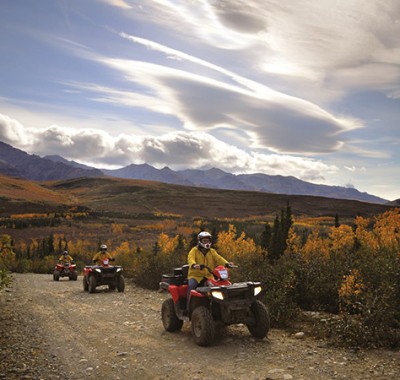 Denali Princess Wilderness Lodge
Duration

Approximately 3½ hours

Price From

$149.95 Adult
$69.95 Child
Meal Provided
Moderate Activity Level
Shopping Opportunities
Driving your own four-wheel ATV machine is as close as you can get to being in the wilds of Alaska. Your adventure begins with a safety briefing and will be fitted with all the proper gear. Join your guide on a very personal tour of the Alaska wilderness. This adventure has spectacular scenery and you are in control of your own journey. Stop whenever you want, take pictures of the beautiful scenery, laugh as you experience Alaska as it was meant to be—rough and wild! This experience takes you back on old coal mining trails and spills you out onto the Dry Creek River Bed where Athabascan Indian artifacts have been found in archaeological digs. Across the river, you'll pass by an authentic broken down abandoned Alaska cabin that is very interesting. You will travel past local vegetation while soaking in the breathtaking mountain scenery. Your trek takes you high where you can view the entire Healy Valley. Photo opportunities abound and you have a great chance of viewing wildlife in their natural habitat!
SPECIAL NOTE
Minimum age to drive is 16 years. A waiver must be signed. Bring your driver's license. No additional riders on ATV. Guests with back, neck, heart or mobility problems are not allowed to participate. Wildlife sightings are likely but not guaranteed. Time on ATV is approximately 2½ hours. This option includes a meal.
CALL 800.426.0500 TO BOOK
---
DENALI EXCURSIONS
An array of optional tours is available at Denali Princess Wilderness Lodge during the summer season. To add an activity to your stay, please call 1-800-426-0500 for reservations or visit the Tour Desk at Denali Princess Wilderness Lodge.
PURCHASE LAND EXCURSIONS
Land excursions may be cancelled up to four (4) days prior to travel without a cancellation fee. Cancellations made within three (3) days of travel are 100% non-refundable. Note that excursion availability is based on cruise tour date, capacity limitations and suitable weather conditions. Land excursions are subject to change at any time and are available on a first-come, first-serve basis. Guests are encouraged to book early as space is limited. Prior to travel, print your Travel Itinerary which will have a list of all your confirmed land excursions. Make your cruise tour with Princess an even more memorable one and purchase your land excursions today.
CANCELLATION POLICY
Land Excursions cancelled prior to the cancellation deadline will be refunded to the credit card that you provided to purchase your tours. Excursions cancelled within three (3) days prior travel are subject to a 100% cancellation fee, unless the operator, at their sole discretion, is unable to operate the program due to unforeseen circumstances. All sales of tours booked while on your land tour are considered final at the time of purchase and are 100% non-refundable except in the case of an operator approved cancellation.