Denali Highway Jeep Excursion
Back to Excursions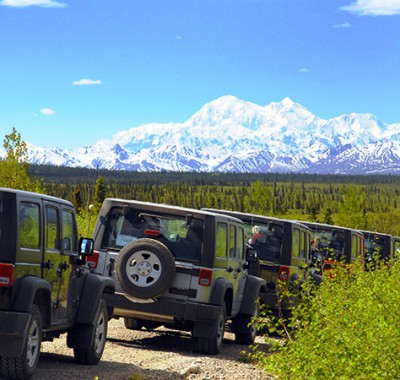 Denali Princess Wilderness Lodge
Duration

Approximately 4½ hours

Price From

$169.95 Adult
$99.95 Child
Snack Included
Moderate Activity Level
Don't miss the Denali Highway—featured as the #2 "Drive of a Lifetime" by National Geographic Traveler magazine! Once the gateway to Denali National Park, this 135-mile gravel road is surrounded by pristine nature and is a photographer's paradise. Snow-capped mountains, icy glaciers and panoramic vistas flank the Denali Highway. During your guided and narrated 100+ mile round trip excursion, there are opportunities to see Denali (formerly Mt. McKinley) and wildlife (both weather permitting). New, four-door, 4×4 Jeeps hug the dirt road, while comfortably seating four adults who can trade off driving. Each Jeep has a CB radio for communicating with the guide so stops can be made whenever desired. As driving the Denali Highway is prohibited by most rental vehicle companies, this exclusive excursion provides access to more of Alaska's spectacular scenery and wildlife and is a great alternative to crowded bus trips.
SPECIAL NOTE
Wear comfortable walking shoes. Dress in warm layers. Bring a jacket, camera and binoculars. Minimum age to drive is 25 years. A waiver must be signed. Bring your driver's license. Car seats and booster seats are available upon request. Wildlife sightings are likely but not guaranteed. Jeep Wranglers® carry up to four passengers per vehicle. There will be ample time to switch drivers so that everyone interested in driving will have the opportunity. Time in jeep is approximately 4 hours.
CALL 800.426.0500 TO BOOK
---
DENALI EXCURSIONS
An array of optional excursions are available at the Denali Princess Wilderness Lodge. Visit the Tour Desk at the Denali Princess Lodge or call 1-800-426-0500.
PURCHASE LAND EXCURSIONS
Princess is pleased to offer you the ability to purchase your excursions for the land portion of your cruise tour using the Cruise Personalizer at princess.com. Included is a list of land excursion options customized to best fit your itinerary with detailed information about each excursion. When you are ready to purchase your land excursions, go to the Cruise Personalizer and have your booking number and credit card information ready to enter. Princess accepts Princess Visa, Visa, MasterCard, American Express, Discover and Diner's Club. Confirmed excursions can be viewed at any time in your detailed itinerary in the Cruise Personalizer and will also be listed on your Welcome Envelope that you'll receive at each cruise tour location during your Princess Land & Sea Vacation. Land excursions may be cancelled up to three (3) days prior to travel without a cancellation fee. Cancellations made within three (3) days of travel are 100% non-refundable. Note that excursion availability is based on cruise tour date, capacity limitations and suitable weather conditions. Land excursions are subject to change at any time and are available on a first-come, first-serve basis. Guests are encouraged to book early as space is limited. Prior to travel, print your Travel Itinerary which will have a list of all your confirmed land excursions. Make your cruise tour with Princess an even more memorable one and purchase your land excursions today.
CANCELLATION POLICY
Alaska Land Excursions, purchased through the Cruise Personalizer, may be cancelled up to three days prior to travel without any cancellation fees. Land Excursions cancelled prior to the cancellation deadline will be refunded to the credit card that you provided in the Cruise Personalizer to purchase your tours. Excursions cancelled within three (3) days prior travel are subject to a 100% cancellation fee, unless the operator, at their sole discretion, is unable to operate the program due to unforeseen circumstances. All sales of tours booked while on your land tour are considered final at the time of purchase and are 100% non-refundable except in the case of an operator approved cancellation.