Denali Adventure Hike
Back to Excursions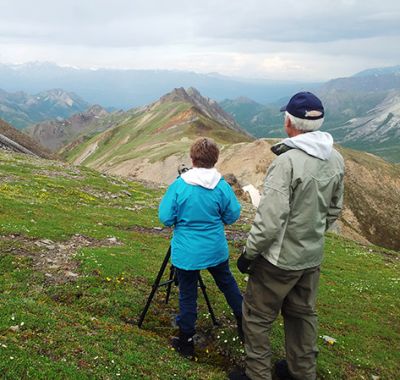 Denali Princess Wilderness Lodge
Duration

Approximately 5 hours

Price From

$159.95 Adult
$69.95 Child
Hiking with an experienced naturalist guide is a great way to explore the forested area near the Nenana River, and learn about the highly adapted organisms that inhabit the mountains on the north side of the Alaska Range, and around the globe in the subarctic habitat. This narrated wilderness hike covers more ground than a walking tour,and offers travelers more time to explore the glacier topography, and subarctic ecology in depth. Alaska's backcountry is part of one of the largest wilderness areas on earth. Walk out and really discover this remarkable place for its immensity, seasonality, and beauty. Hikes are operated in front country trails within Denali National Park and in the wilderness areas surrounding it.
SPECIAL NOTE
Maximum age is 80 years. Maximum weight is 300 lbs. Must be in good physical condition. Wear outdoor clothing and hiking shoes. Bring water and snacks. Trekking poles provided. Extra rain gear available, if needed. Tour is not suitable for pregnant women. Guests with back, neck, heart or mobility problems are not allowed to participate. Tour operates rain or shine, but may be cancelled by the operator in the event of extremely bad weather or unsuitable conditions. Tour operates subject to meeting a minimum number of participants. Wildlife sightings are likely but not guaranteed. Hiking is approximately 4½ hours.
CALL 800.426.0500 TO BOOK
---
DENALI EXCURSIONS
An array of optional excursions are available at the Denali Princess Wilderness Lodge. Visit the Tour Desk at the Denali Princess Lodge or call 1-800-426-0500.
PURCHASE LAND EXCURSIONS
Princess is pleased to offer you the ability to purchase your excursions for the land portion of your cruise tour using the Cruise Personalizer at princess.com. Included is a list of land excursion options customized to best fit your itinerary with detailed information about each excursion. When you are ready to purchase your land excursions, go to the Cruise Personalizer and have your booking number and credit card information ready to enter. Princess accepts Princess Visa, Visa, MasterCard, American Express, Discover and Diner's Club. Confirmed excursions can be viewed at any time in your detailed itinerary in the Cruise Personalizer and will also be listed on your Welcome Envelope that you'll receive at each cruise tour location during your Princess Land & Sea Vacation. Land excursions may be cancelled up to three (3) days prior to travel without a cancellation fee. Cancellations made within three (3) days of travel are 100% non-refundable. Note that excursion availability is based on cruise tour date, capacity limitations and suitable weather conditions. Land excursions are subject to change at any time and are available on a first-come, first-serve basis. Guests are encouraged to book early as space is limited. Prior to travel, print your Travel Itinerary which will have a list of all your confirmed land excursions. Make your cruise tour with Princess an even more memorable one and purchase your land excursions today.
CANCELLATION POLICY
Alaska Land Excursions, purchased through the Cruise Personalizer, may be cancelled up to three days prior to travel without any cancellation fees. Land Excursions cancelled prior to the cancellation deadline will be refunded to the credit card that you provided in the Cruise Personalizer to purchase your tours. Excursions cancelled within three (3) days prior travel are subject to a 100% cancellation fee, unless the operator, at their sole discretion, is unable to operate the program due to unforeseen circumstances. All sales of tours booked while on your land tour are considered final at the time of purchase and are 100% non-refundable except in the case of an operator approved cancellation.