DogGoneIt Kennel Tour
Back to Excursions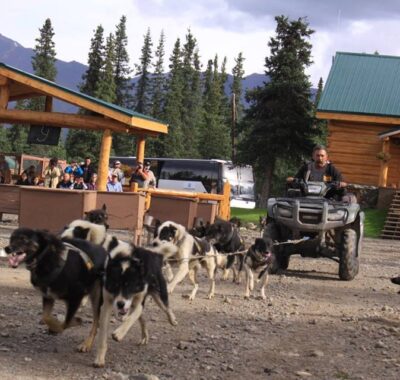 Denali Princess Wilderness Lodge
Duration

Approximately 3 hours

Price From

$69.95 Adult
$54.95 Child
Easy Activity Level
Family Friendly
Visit the home and kennel of Iditarod musher Mike Santos. You'll have the opportunity to meet his dogs, hold puppies and virtually experience the Iditarod race. Your intimate visit will bring you into his home and includes a 90 minute narrated tour during which you'll learn about sled dogs, the Iditarod race and life in rural Alaska. The tour emphasizes multimedia through which you can experience the feeling of being on the Iditarod trail.
To begin, you'll hold a puppy and view their play area. Then you'll watch a team of enthusiastic sled dogs take off for a summer training run. Then you'll view a 90 minute multimedia presentation that features video footage from the race, photos and equipment used. Hear stories of successes and challenges encountered along the way, participate in a question and answer session and see the dogs one last time before heading back to your hotel.
Special Notes:
Dress in warm layers. Wear comfortable walking shoes. Bring a jacket, gloves and a hat. Children under the age of 16 must be accompanied by parent or guardian. Transportation to and from the venue is not wheelchair accessible.
CALL 800.426.0500 TO BOOK
---
DENALI EXCURSIONS
An array of optional tours is available at Denali Princess Wilderness Lodge during the summer season. To add an activity to your stay, please call 1-800-426-0500 for reservations or visit the Tour Desk at Denali Princess Wilderness Lodge.
PURCHASE LAND EXCURSIONS
Land excursions may be cancelled up to four (4) days prior to travel without a cancellation fee. Cancellations made within three (3) days of travel are 100% non-refundable. Note that excursion availability is based on cruise tour date, capacity limitations and suitable weather conditions. Land excursions are subject to change at any time and are available on a first-come, first-serve basis. Guests are encouraged to book early as space is limited. Prior to travel, print your Travel Itinerary which will have a list of all your confirmed land excursions. Make your cruise tour with Princess an even more memorable one and purchase your land excursions today.
CANCELLATION POLICY
Land Excursions cancelled prior to the cancellation deadline will be refunded to the credit card that you provided to purchase your tours. Excursions cancelled within three (3) days prior travel are subject to a 100% cancellation fee, unless the operator, at their sole discretion, is unable to operate the program due to unforeseen circumstances. All sales of tours booked while on your land tour are considered final at the time of purchase and are 100% non-refundable except in the case of an operator approved cancellation.