Salmon Fishing by Jet Boat
Back to Excursions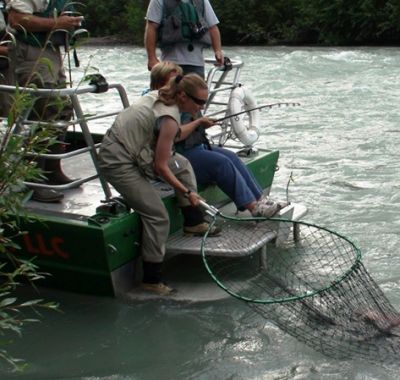 Copper River Princess Wilderness Lodge
Duration

Approximately 6 hours

Price From

$309.95 Per Person
Snack Included
Moderate Activity Level
Enjoy day fishing for famous Copper River salmon. Experience world-class fishing for King and/or red salmon in the rivers of the Copper Valley. Jet up the mighty Klutina River, a tributary of the Copper River, under the watchful eye of your professional fishing guide. Listen to your reel drag sing as you tangle with monster fish ranging between 5 and 70 pounds in the heavy river current. King salmon, aka Chinook salmon, are the premier river game fish in North America and this is your chance to tangle with one of these giants. Outside of king season (King season generally runs from late June through early August), sockeye fishing for world famous Copper River Red Salmon is available!
Click here to view fishing guidelines.
SPECIAL NOTE
Minimum age is 10. Fishing licenses are required for anyone 16 years of age or older. Licenses are available for purchase at the lodge upon arrival night. A King Salmon stamp will be required during King season at an additional charge. Dress in layers. Bring a raincoat, sunglasses, and camera. This tour accommodates both novice and experienced anglers but note that casting and wading may be required. You will be fishing from shore and footing is uneven and can be slippery. You must be able to hike short distances over uneven terrain. This tour includes all the fishing gear, personal flotation device, and waders. For an additional charge, your fish can be processed, frozen and shipped. Fish are filleted free-of-charge by the vendor; however, packing and shipping must be arranged through another local business. Estimated shipping costs: $5-15 per pound depending on shipping address and the quantity. Due to changing fishing conditions, tour departure times may be changed at tour operator's discretion.
CALL 800.426.0500 TO BOOK
---
COPPER RIVER EXCURSIONS
An array of optional excursions are available at the Copper River Wilderness Lodge. To add an activity to your stay, please call 1-800-426-0500 for reservations or visit the Tour desk at Copper River Princess Wilderness Lodge.
PURCHASE LAND EXCURSIONS
Princess is pleased to offer you the ability to purchase your excursions for the land portion of your cruise tour using the Cruise Personalizer at princess.com. Included is a list of land excursion options customized to best fit your itinerary with detailed information about each excursion. When you are ready to purchase your land excursions, go to the Cruise Personalizer and have your booking number and credit card information ready to enter. Princess accepts Princess Visa, Visa, MasterCard, American Express, Discover and Diner's Club. Confirmed excursions can be viewed at any time in your detailed itinerary in the Cruise Personalizer and will also be listed on your Welcome Envelope that you'll receive at each cruise tour location during your Princess Land & Sea Vacation. Land excursions may be cancelled up to three (3) days prior to travel without a cancellation fee. Cancellations made within three (3) days of travel are 100% non-refundable. Note that excursion availability is based on cruise tour date, capacity limitations and suitable weather conditions. Land excursions are subject to change at any time and are available on a first-come, first-serve basis. Guests are encouraged to book early as space is limited and flightseeing tours in particular may not be available right up to tour departure date. Prior to travel, print your Travel Itinerary which will have a list of all your confirmed land excursions. Make your cruise tour with Princess an even more memorable one and purchase your land excursions today.
CANCELLATION POLICY
Alaska Land Excursions, purchased through the Cruise Personalizer, may be cancelled up to three days prior to travel without any cancellation fees. Land Excursions cancelled prior to the cancellation deadline will be refunded to the credit card that you provided in the Cruise Personalizer to purchase your tours. Excursions cancelled within three (3) days prior travel are subject to a 100% cancellation fee, unless the operator, at their sole discretion, is unable to operate the program due to unforeseen circumstances. All sales of tours booked while on your land tour are considered final at the time of purchase and are 100% non-refundable except in the case of an operator approved cancellation.