Kennicott Explorer
Back to Excursions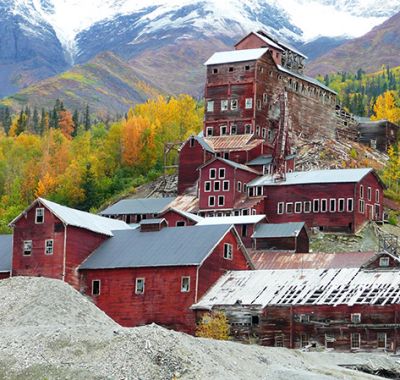 Copper River Princess Wilderness Lodge
Duration

Approximately 12 3/4 hours

Price From

$169.95 Adult
$99.95 Child
Moderate Activity Level
Off the Beaten Path
Shopping Opportunities
Climb aboard and let us do the driving as you enjoy the beautiful Copper River Valley! Your local driver-guide will point out the highlights of the area and answer questions as you pass through the farming community of Kenny Lake and the historic town of Chitina. From there the road enters the Wrangell-St. Elias National Park and follows the path of the Copper River & Northwestern Railway—nicknamed the "Can't Run and Never Will." Remnants of the railroad can be seen along the way. You'll stop at the Kuskulana Bridge—a 525′ steel bridge built in 1911 that spans the 283′ deep gorge of the Kuskulana River and is still used today. Stop at the impressive Gilahina River bridge—very large wooden trestle, most of which is still standing but most definitely not in use. The 60 miles of road from Chitina are gravel and sit directly on the old railroad bed. At the end of the road, you will get off at the footbridge with tickets to catch the McCarthy bus that will take you to the final 4½ miles into the historic mill town of Kennicott. You'll have approximately five hours on your own to explore the area so make sure you visit the Kennicott Visitor Center and speak with a local Ranger!
SPECIAL NOTE
Wear comfortable walking shoes. Dress in warm layers. You will have 5 hours to explore at your leisure. The 60-mile McCarthy Road is rough in spots and is not meant for guests with back issues. Delays due to road condition are unlikely but possible. Lunch and optional recreational activities (i.e. guided hiking tours) can be purchased in Kennicott at your own expense. After Labor Day, shopping and dining venues may be limited. Travel time is approximately 3½ hours each way.
CALL 800.426.0500 TO BOOK
---
COPPER RIVER EXCURSIONS
An array of optional excursions are available at the Copper River Wilderness Lodge. To add an activity to your stay, please call 1-800-426-0500 for reservations or visit the Tour desk at Copper River Princess Wilderness Lodge.
PURCHASE LAND EXCURSIONS
Princess is pleased to offer you the ability to purchase your excursions for the land portion of your cruise tour using the Cruise Personalizer at princess.com. Included is a list of land excursion options customized to best fit your itinerary with detailed information about each excursion. When you are ready to purchase your land excursions, go to the Cruise Personalizer and have your booking number and credit card information ready to enter. Princess accepts Princess Visa, Visa, MasterCard, American Express, Discover and Diner's Club. Confirmed excursions can be viewed at any time in your detailed itinerary in the Cruise Personalizer and will also be listed on your Welcome Envelope that you'll receive at each cruise tour location during your Princess Land & Sea Vacation. Land excursions may be cancelled up to three (3) days prior to travel without a cancellation fee. Cancellations made within three (3) days of travel are 100% non-refundable. Note that excursion availability is based on cruise tour date, capacity limitations and suitable weather conditions. Land excursions are subject to change at any time and are available on a first-come, first-serve basis. Guests are encouraged to book early as space is limited. Prior to travel, print your Travel Itinerary which will have a list of all your confirmed land excursions. Make your cruise tour with Princess an even more memorable one and purchase your land excursions today.
CANCELLATION POLICY
Alaska Land Excursions, purchased through the Cruise Personalizer, may be cancelled up to three days prior to travel without any cancellation fees. Land Excursions cancelled prior to the cancellation deadline will be refunded to the credit card that you provided in the Cruise Personalizer to purchase your tours. Excursions cancelled within three (3) days prior travel are subject to a 100% cancellation fee, unless the operator, at their sole discretion, is unable to operate the program due to unforeseen circumstances. All sales of tours booked while on your land tour are considered final at the time of purchase and are 100% non-refundable except in the case of an operator approved cancellation.