UTV Wilderness Adventure & Hike
Back to Excursions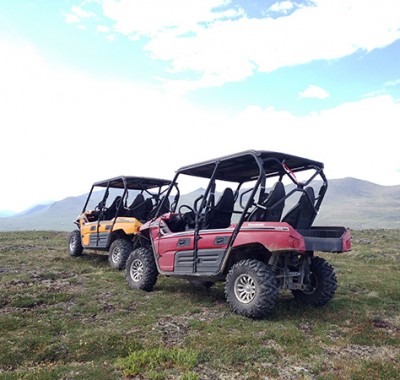 Copper River Princess Wilderness Lodge
Duration

Approximately 3 1/2 hours

Price From

$159.95 Adult
$139.95 Child
Come along for the ride in a sporty multi-passenger "side by side" UTV for an exciting afternoon of four wheeled adventure and hiking in boreal forest. Stop along the way to watch wildlife and
the signs they leave behind. Your guide will take you on trails and back roads with great views of the Klutina River Canyon, traveling over a moraine – the remnants of the glacier that once covered the entire river basin. Travel to the "Devil's Elbow" named in 1898 by the men who traveled the area in search of gold. On this adventure you will see the remains of a colossal landslide and spectacular views of Wrangell St. Elias National Park. Spring trips will bring an abundance of wildflowers and fall trips the colors of autumn.
SPECIAL NOTE
Wear comfortable walking shoes. Bring a rain jacket, camera, and binoculars. The hike portion of the trip is approximately 25 minutes of walking over uneven terrain and unsuitable for those unable to walk unassisted. Included in the price is a $20 land use permit to access Ahtna, Incorporated owned land. Ahtna is one of 13 Alaska Native Regional Corporations, and the permit helps support important programs to help maintain the lands for enjoyment by current and future generations.
CALL 800.426.0500 TO BOOK
---
COPPER RIVER EXCURSIONS
An array of optional excursions are available at the Copper River Wilderness Lodge. To add an activity to your stay, please call 1-800-426-0500 for reservations or visit the Tour desk at Copper River Princess Wilderness Lodge.
PURCHASE LAND EXCURSIONS
Princess is pleased to offer you the ability to purchase your excursions for the land portion of your cruise tour using the Cruise Personalizer at princess.com. Included is a list of land excursion options customized to best fit your itinerary with detailed information about each excursion. When you are ready to purchase your land excursions, go to the Cruise Personalizer and have your booking number and credit card information ready to enter. Princess accepts Princess Visa, Visa, MasterCard, American Express, Discover and Diner's Club. Confirmed excursions can be viewed at any time in your detailed itinerary in the Cruise Personalizer and will also be listed on your Welcome Envelope that you'll receive at each cruise tour location during your Princess Land & Sea Vacation. Land excursions may be cancelled up to three (3) days prior to travel without a cancellation fee. Cancellations made within three (3) days of travel are 100% non-refundable. Note that excursion availability is based on cruise tour date, capacity limitations and suitable weather conditions. Land excursions are subject to change at any time and are available on a first-come, first-serve basis. Guests are encouraged to book early as space is limited and flightseeing tours in particular may not be available right up to tour departure date. Prior to travel, print your Travel Itinerary which will have a list of all your confirmed land excursions. Make your cruise tour with Princess an even more memorable one and purchase your land excursions today.
CANCELLATION POLICY
Alaska Land Excursions, purchased through the Cruise Personalizer, may be cancelled up to three days prior to travel without any cancellation fees. Land Excursions cancelled prior to the cancellation deadline will be refunded to the credit card that you provided in the Cruise Personalizer to purchase your tours. Excursions cancelled within three (3) days prior travel are subject to a 100% cancellation fee, unless the operator, at their sole discretion, is unable to operate the program due to unforeseen circumstances. All sales of tours booked while on your land tour are considered final at the time of purchase and are 100% non-refundable except in the case of an operator approved cancellation.