Alaska Salmon Bake
Back to Excursions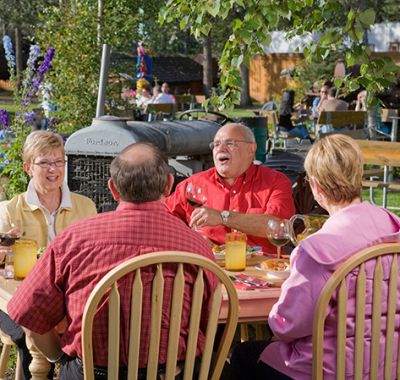 Fairbanks Princess Riverside Lodge
Duration

Approximately 5½ hours

Price From

$57.95 Adult
$28.95 Child
Easy Activity Level
Family Friendly
Meal Provided
Wheelchair Accessible
Looking for a relaxed dinner after a busy day of adventures? Head to the Alaska Salmon Bake in historic Pioneer Park, Fairbanks' most unique dining experience. Our expansive park-like grounds are filled with original gold mining equipment, and offer you a choice of settling in to our heated Dining Hall, or soaking up the midnight sun outside. Family owned and operated, we have been serving authentic Alaska seafood and flavorful family recipes for over 40 years. Our menu includes fire-grilled wild Alaska Silver Salmon (prepared right before your eyes!), hand-dipped craft beer-battered wild Alaska Halibut & Bering Sea Cod, slow roasted Choice Prime Rib, Northern Fried Chicken and Alaska Snow Crab. Enjoy a pint of one of our 9 Alaska Craft beers, a glass of wine from our extensive wine list, or a glass of Salmon Bake Sangria (not included in the price). You can even ride our wooden Wild Salmon for a fantastic picture opportunity. After dinner stroll through Historic Pioneer Park – home to seven museums, shops and lots of Fairbanks lore.
Guest chooses a single entree of either: Choice Prime Rib; Fire Grilled Salmon; Craft Beer Battered Halibut; Craft Beer Battered Bering Sea Cod; or Northern Fried Chicken. Entrée counts not needed in advance. All meal choices include: Choice of one hot side dish (roasted potatoes, mac & cheese, or baked beans): choice of Salad (Caesar, House or Pasta) & fresh baked biscuit with whipped honey butter; as well as a Salmon Bake Signature Dessert (Chocolate Mousse or Cheesecake Parfait); Iced Tea, Lemonade, Coffee.
CALL 800.426.0500 TO BOOK
---
FAIRBANKS EXCURSIONS
An array of optional tours is available at the Fairbanks Princess Riverside Lodge during the summer season. To add an activity to your stay, please call 1-800-426-0500 for reservations or visit the Tour Desk at Fairbanks Princess Riverside Lodge.
PURCHASE LAND EXCURSIONS
Land excursions may be cancelled up to four (4) days prior to travel without a cancellation fee. Cancellations made within three (3) days of travel are 100% non-refundable. Note that excursion availability is based on cruise tour date, capacity limitations and suitable weather conditions. Land excursions are subject to change at any time and are available on a first-come, first-serve basis. Guests are encouraged to book early as space is limited. Prior to travel, print your Travel Itinerary which will have a list of all your confirmed land excursions. Make your cruise tour with Princess an even more memorable one and purchase your land excursions today.
CANCELLATION POLICY
Land Excursions cancelled prior to the cancellation deadline will be refunded to the credit card that you provided to purchase your tours. Excursions cancelled within three (3) days prior travel are subject to a 100% cancellation fee, unless the operator, at their sole discretion, is unable to operate the program due to unforeseen circumstances. All sales of tours booked while on your land tour are considered final at the time of purchase and are 100% non-refundable except in the case of an operator approved cancellation.