Gold Dredge 8
Back to Excursions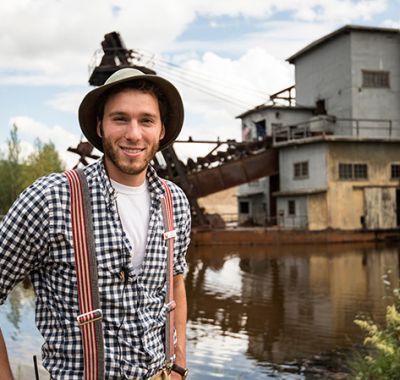 Fairbanks Princess Riverside Lodge
Duration

Approximately 3½ - 4 hours

Price From

$74.00 Adult
$59.00 Child
Snack Included
Easy Activity Level
Wheelchair Accessible
Enjoy a close-up view of the Trans-Alaska Pipeline and a presentation about its history and operation. Then, take a seat aboard the narrow-gauge Tanana Valley Railroad and hear the conductor tell tales of prospectors who arrived by the thousands during the gold rush. The train ride takes you to Gold Dredge 8 where you will see firsthand how the dredge worked the gold fields. Once the train arrives at the camp, local miners will give a brief but informative course in mining and then you will try panning for yourself! You will find gold—we guarantee it! Explore the dredge camp and enjoy complimentary coffee and fresh-baked cookies in the gift shop as your gold is weighed then hop aboard the train and return to the station.
CALL 800.425.1737 TO BOOK
---
FAIRBANKS EXCURSIONS
An array of optional tours is available at the Westmark Fairbanks Hotel and Conference Center during the summer season. To add an activity to your stay, please call 1-800-425-1737 for reservations or visit the Tour Desk at Westmark Fairbanks Hotel.
PURCHASE LAND EXCURSIONS
Land excursions may be cancelled up to four (4) days prior to travel without a cancellation fee. Cancellations made within three (3) days of travel are 100% non-refundable. Note that excursion availability is based on cruise tour date, capacity limitations and suitable weather conditions. Land excursions are subject to change at any time and are available on a first-come, first-serve basis. Guests are encouraged to book early as space is limited. Prior to travel, print your Travel Itinerary which will have a list of all your confirmed land excursions. Make your cruise tour with Princess an even more memorable one and purchase your land excursions today.
CANCELLATION POLICY
Land Excursions cancelled prior to the cancellation deadline will be refunded to the credit card that you provided to purchase your tours. Excursions cancelled within three (3) days prior travel are subject to a 100% cancellation fee, unless the operator, at their sole discretion, is unable to operate the program due to unforeseen circumstances. All sales of tours booked while on your land tour are considered final at the time of purchase and are 100% non-refundable except in the case of an operator approved cancellation.