Alaska Salmon Bake & Palace Theatre
Back to Excursions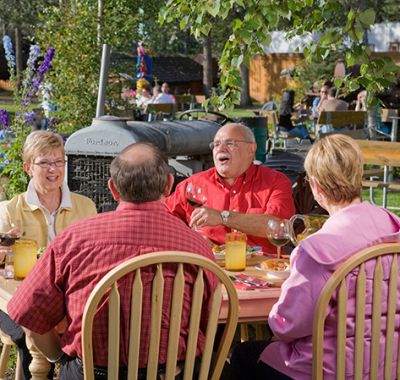 Fairbanks Princess Riverside Lodge
Duration

Approximately 2½ hours

Price From

$89.95 Adult
$45.95 Child
Easy Activity Level
Meal Provided
Shopping Opportunities
Wheelchair Accessible
Looking for a relaxed dinner after a busy day of adventures? Head to the Alaska Salmon Bake at Pioneer Park where you'll enjoy an All-you-can-eat buffet while surrounded by Alaska history. Enjoy fire grilled salmon, hand dipped beer battered cod from the Bering Sea and beef slow-cooked to perfection. Bottomless salad bar, baked beans, rolls, dessert and non-alcoholic drinks are included with your meal! Sit inside our dining hall or outside where you can soak up the evening sun with a pint of locally brewed beer or a glass of wine (at your own expense). Get great tips from our grill masters who cook our wild Alaska salmon perfectly over a bed of black spruce coals. After your meal, catch the musical comedy at the Palace Theatre, which is just a short walk from the Salmon Bake. If you only see one show in Alaska make sure it's the "Golden Heart Revue." Performed by a polished, professional cast, the show is performed nightly at the Palace Theatre.
Special Note
The Alaska Salmon Bake meal & Palace Theatre show are sold separately as well. See our tour desk for more information.
CALL 800.426.0500 TO BOOK
---
FAIRBANKS EXCURSIONS
An array of optional tours is available at the Fairbanks Princess Riverside Lodge during the summer season. To add an activity to your stay, please call 1-800-426-0500 for reservations or visit the Tour Desk at Fairbanks Princess Riverside Lodge.
PURCHASE LAND EXCURSIONS
Princess is pleased to offer you the ability to purchase your excursions for the land portion of your cruise tour using the Cruise Personalizer at princess.com. Included is a list of land excursion options customized to best fit your itinerary with detailed information about each excursion. When you are ready to purchase your land excursions, go to the Cruise Personalizer and have your booking number and credit card information ready to enter. Princess accepts Princess Visa, Visa, MasterCard, American Express, Discover and Diner's Club. Confirmed excursions can be viewed at any time in your detailed itinerary in the Cruise Personalizer and will also be listed on your Welcome Envelope that you'll receive at each cruise tour location during your Princess Land & Sea Vacation. Land excursions may be cancelled up to four (4) days prior to travel without a cancellation fee. Cancellations made within three (3) days of travel are 100% non-refundable. Note that excursion availability is based on cruise tour date, capacity limitations and suitable weather conditions. Land excursions are subject to change at any time and are available on a first-come, first-serve basis. Guests are encouraged to book early as space is limited. Prior to travel, print your Travel Itinerary which will have a list of all your confirmed land excursions. Make your cruise tour with Princess an even more memorable one and purchase your land excursions today.
CANCELLATION POLICY
Alaska Land Excursions, purchased through the Cruise Personalizer, may be cancelled up to three days prior to travel without any cancellation fees. Land Excursions cancelled prior to the cancellation deadline will be refunded to the credit card that you provided in the Cruise Personalizer to purchase your tours. Excursions cancelled within three (3) days prior travel are subject to a 100% cancellation fee, unless the operator, at their sole discretion, is unable to operate the program due to unforeseen circumstances. All sales of tours booked while on your land tour are considered final at the time of purchase and are 100% non-refundable except in the case of an operator approved cancellation.