Riverboat Discovery Cruise & Gold Dredge 8 Combo
Back to Excursions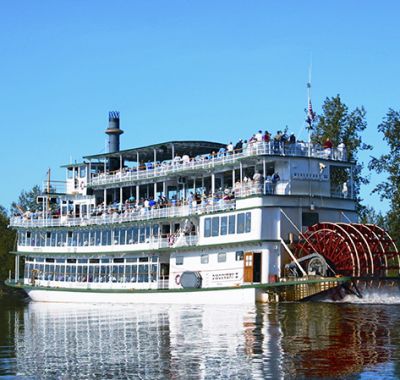 Fairbanks Princess Riverside Lodge
Duration

Approximately 7¾ - 8¼ hours

Price From

$168.95 Adult
$133.95 Child
Easy Activity Level
Meal Provided
Wheelchair Accessible
Board the only remaining authentic Alaskan sternwheeler for a cruise along the Chena and Tanana rivers in Chena River State Recreation Area. With the feel of an old-time steamboat that frequented the river during the gold rush days, this modern-day riverboat features an open sun deck, heated glass enclosed decks and is equipped with video equipment so you won't miss any of the beautiful scenery. During this narrated cruise, you will witness the ''wedding of the rivers.'' The marriage of these two mighty rivers creates quite a unique line when the clear waters of the Chena meet the Tanana, the world's greatest glacier river carrying tons of glacial silt from the Alaska Range.
Your next adventure will be a visit to the home of Dave Monson and Susan Butcher, the late four-time Iditarod champion. Here, you will meet their winning sled dogs and witness a dog sleg demonstration. From there, continue on to the Old Chena Indian Village and disembark for a glimpse into Alaskan Native life and history. Alaskan Native guides will take you on a tour of an Athabascan Indian village, a spruce bark hut, a trapper's cabin made of spruce logs and show you how a fish wheel operates. Before boarding for your trip back, you'll have 15 minutes at the end of the tour to wander around the village or to take pictures
Next, board a train to visit the Gold Dredge 8, a National Historic Monument! Local miners will give a brief but informative course in mining, then you will try panning for yourself! You will find gold – we guarantee it! Nothing beats the thrill of grabbing a sack filled with pay dirt and getting your chance to strike it rich. Finally, explore the dredge camp and visit the gift shop where you can have your gold weighed and find out the dollar value based on the current market price. Have your gold turned into a memorable keepsake before boarding the train for the return back to the station.
Special Note
Guests need to make sure they do not reserve Land Excursions on the day of cruise tour arrival or departure that will conflict with their air schedules. Please allow at least two hours between the time your land excursion begins or ends and your flight. Tour may operate in reverse. Lunch is included in the Pavilion.
CALL 800.426.0500 TO BOOK
---
FAIRBANKS EXCURSIONS
An array of optional tours is available at the Fairbanks Princess Riverside Lodge during the summer season. To add an activity to your stay, please call 1-800-426-0500 for reservations or visit the Tour Desk at Fairbanks Princess Riverside Lodge.
PURCHASE LAND EXCURSIONS
Princess is pleased to offer you the ability to purchase your excursions for the land portion of your cruise tour using the Cruise Personalizer at princess.com. Included is a list of land excursion options customized to best fit your itinerary with detailed information about each excursion. When you are ready to purchase your land excursions, go to the Cruise Personalizer and have your booking number and credit card information ready to enter. Princess accepts Princess Visa, Visa, MasterCard, American Express, Discover and Diner's Club. Confirmed excursions can be viewed at any time in your detailed itinerary in the Cruise Personalizer and will also be listed on your Welcome Envelope that you'll receive at each cruise tour location during your Princess Land & Sea Vacation. Land excursions may be cancelled up to three (3) days prior to travel without a cancellation fee. Cancellations made within three (3) days of travel are 100% non-refundable. Note that excursion availability is based on cruise tour date, capacity limitations and suitable weather conditions. Land excursions are subject to change at any time and are available on a first-come, first-serve basis. Guests are encouraged to book early as space is limited. Prior to travel, print your Travel Itinerary which will have a list of all your confirmed land excursions. Make your cruise tour with Princess an even more memorable one and purchase your land excursions today.
CANCELLATION POLICY
Alaska Land Excursions, purchased through the Cruise Personalizer, may be cancelled up to three days prior to travel without any cancellation fees. Land Excursions cancelled prior to the cancellation deadline will be refunded to the credit card that you provided in the Cruise Personalizer to purchase your tours. Excursions cancelled within three (3) days prior travel are subject to a 100% cancellation fee, unless the operator, at their sole discretion, is unable to operate the program due to unforeseen circumstances. All sales of tours booked while on your land tour are considered final at the time of purchase and are 100% non-refundable except in the case of an operator approved cancellation.