Chena Hot Springs & Ice Museum
Back to Excursions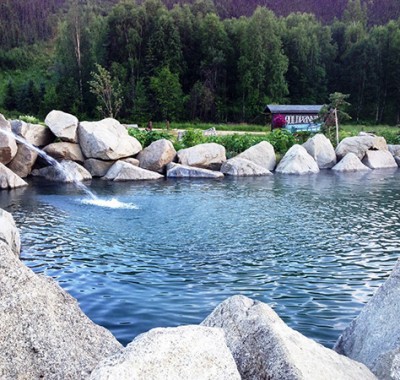 Fairbanks Princess Riverside Lodge
Duration

Approximately 5 hours

Price From

$199.95 Per Person
Easy Activity Level
Shopping Opportunities
Wheelchair Accessible
Experience the "hottest" and "coolest" attractions in Alaska! Start with a 60 mile ride to Chena Hot Springs Resort. Along the way learn about the recreational area and history of the 100+ year old resort. Be on the lookout for wildlife as this is moose country. After arriving at the Resort, enjoy an Aurora Ice Museum Tour with the "cool" tour of the largest year-round ice environment in the world made from over 1,000 tons of ice and snow. Relax on caribou covered ice stools at the Aurora Ice Bar. Purchase an "appletini" (extra $20 fee and I.D. required) in your very own ice carved martini glass. Your souvenir to take with you! See the beautiful ice chandeliers overhead and theme bedrooms as you take in your amazing surroundings. To end the evening, the choice is yours with either a "hot" dip in the natural hot springs lake (ages 18+) including a towel or take an educational Geothermal Energy Tour. Learn about the resort's ongoing energy projects on this 40 minute tour.
Special Note
Minimum age is 12. Minimum age is 18 for entry into the Hot Springs. Minimum height is 5'0″. Minimum weight is 100 lbs. Bring a warm coat, gloves, hat and swimsuit. Towels and a parka will be provided. Wildlife sightings are likely but not guaranteed. Time at Hot Springs & Ice Museum is approximately 3 hours.
CALL 800.426.0500 TO BOOK
---
FAIRBANKS EXCURSIONS
An array of optional tours is available at the Fairbanks Princess Riverside Lodge during the summer season. To add an activity to your stay, please call 1-800-426-0500 for reservations or visit the Tour Desk at Fairbanks Princess Riverside Lodge.
PURCHASE LAND EXCURSIONS
Land excursions may be cancelled up to four (4) days prior to travel without a cancellation fee. Cancellations made within three (3) days of travel are 100% non-refundable. Note that excursion availability is based on cruise tour date, capacity limitations and suitable weather conditions. Land excursions are subject to change at any time and are available on a first-come, first-serve basis. Guests are encouraged to book early as space is limited. Prior to travel, print your Travel Itinerary which will have a list of all your confirmed land excursions. Make your cruise tour with Princess an even more memorable one and purchase your land excursions today.
CANCELLATION POLICY
Land Excursions cancelled prior to the cancellation deadline will be refunded to the credit card that you provided to purchase your tours. Excursions cancelled within three (3) days prior travel are subject to a 100% cancellation fee, unless the operator, at their sole discretion, is unable to operate the program due to unforeseen circumstances. All sales of tours booked while on your land tour are considered final at the time of purchase and are 100% non-refundable except in the case of an operator approved cancellation.