Frequently Asked Questions
Dreaming of an Alaska vacation is almost as fun as actually traveling there. To assist you in planning your vacation, we have prepared some frequently asked questions to assist in making your planning easier.
What are my options for visiting Alaska?
Whether you are looking for a full package vacation experience or a long weekend of fishing adventure, Princess can help.
Cruise and Land
The best way for most travelers to visit Alaska is via a Gulf of Alaska Cruisetour. The cruise offers the opportunity to see the Inside Passage, Glacier Bay, College Fjord and the port towns of Southeast Alaska. The land tour adds the ability to visit Denali National Park, Wrangell-St. Elias National Park and other wilderness destinations. Together, they add up to the most complete Alaska experience.
Land Vacation
If cruising is not your first choice, a land vacation may be the way to go. Princess offers a wide variety of customizable rail packages in Alaska. Short on time? No problem. We offer one and two night rail packages between Anchorage and Fairbanks with overnights in the Denali area.
---
Common Questions for Travelers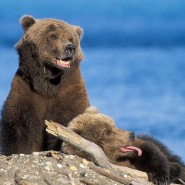 Alaska Cruisetour
The best way for most travelers to visit Alaska is via a Gulf of Alaska Cruisetour.
Land Vacation
If cruising is not your first choice, a land vacation may be the way to go.
---
Wilderness Lodges
Perhaps you want to spend some time in a specific region. Again, Princess can accommodate your needs. Our lodges put you in the best destinations in Alaska. Each offers the opportunity to experience authentic Alaska excursions – including landing on a glacier, rafting a glacial river, riding horses in the backcountry, fishing world class Salmon runs, viewing wildlife or viewing Denali.
What types of Credit Cards are accepted?
Visa, MasterCard and American Express are the predominantly accepted cards in Alaska. Princess accepts Visa, Mastercard, American Express, Novus/Discover and Diners cards.
Can I check my email?
Email access is available in select locations throughout Alaska. Princess offers wireless Internet access at Fairbanks Princess Riverside Lodge and in the common areas (lobbies) of Denali Princess Wilderness Lodge, Mt. McKinley Princess Wilderness Lodge, Kenai Princess Wilderness Lodge and Copper River Princess Wilderness Lodge.  Each of the five Princess Lodges also offer computers for guest use with internet access.  Printers are not available for use at any of the lodges except for Fairbanks Princess Riverside Lodge.
What currency does Alaska use?
Alaska uses American dollars for currency. Traveler's checks issued by most major banks are widely accepted in Alaska. British guests should note that Sterling Travelers Checks are not accepted in Alaska. American dollars traveler's check are advised to ease problems in dealing with currency.
What time zone is Alaska?
All Princess destinations in Alaska lie in the Alaska Daylight Time zone, which is one hour earlier than Pacific Daylight Time.
Can I bring my pet?
Sorry, but we cannot accept your pets at our lodges unless they are service animals for the disabled.