Before You Go
Baggage  |  Climate & Clothing  |  Altitude  |  Special Needs/Access  |  Currency  |  Princess Rail  |  Shopping  |  Time Zones  |  Smoking
Baggage
As your baggage will travel on many different modes of transportation, we recommend that you choose sturdy cases with functional locks that have been properly tagged with identification inside and out. It is important to remember to keep all valuables, medications and documents on your person in a hand-carried piece of luggage which is not to exceed 17x14x4. This carry-on luggage will be stored under your seat on the the viewing level. Wheeled carry on cases that are often used as airline carry-ons are too large and not suitable as hand-carried luggage on the train.
You should also consider bringing the following to enhance your experience:
Vacation Documents
Medication & Prescription info
Personal ID
Important phone numbers
Travel alarm clock
Insect Repellant
Binoculars
Camera & sturdy carrying case
Well-marked luggage
Warm clothes
Comfortable shoes
Guidebooks
Climate and Clothing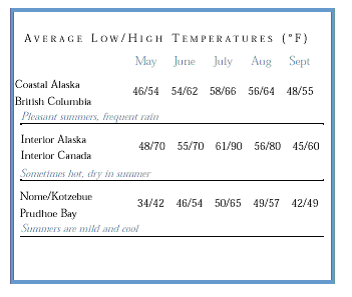 Alaska's climate is diverse and can range from sunny temperatures in the 80's to freezing temperatures at night. The best strategy is to bring clothes that are suited to layering. This will offer the greatest flexibility in adapting your clothing to the conditions of the day.
The average low/high temperature chart to the right will give you an idea of what to expect.
Dress in Alaska is comfortably casual. Comfortable, supportive walking shoes are recommended for the often rough and sometimes slippery terrain. If you intend to hike, light-weight hiking boots are suggested. The following items should be included:
Water-repellent coat or jacket
Collapsible umbrella
Rain hat
Lightweight windbreaker
Sweaters
Warm scarf, gloves and socks
Comfortable walking shoes or sneakers
Altitude
Many guests have concerns about the altitude in Alaska. Travel in Alaska is generally at lower elevations. For example, the train depot in Denali National Park is 1700 feet. The maximum altitude in the Denali National Park is 3900 feet.
Special Needs/Access
Lift equipped motorcoaches, accessible hotel rooms and seating on trains are limited and need to be secured in advance. Should you need a wheelchair, it is impreative that you bring your own or make arrangements for one to be provided.
For any special accessibility requests, please put your request in writing and fax it to the Princess Access Office at 661.284.4408 at least 30 days prior to your travel. If you have questions about the program in general, please call the Princess Access Office at 661.284.4521.
Currency
Alaska uses United States currency. Traveler's checks issued by most major banks are widely accepted in Alaska. Visa, MasterCard and American Express are the predominantly accepted cards in Alaska. Our British guests should note that Sterling Travelers Checks are not accepted in Alaska.
Princess Rail
You may travel aboard Princess Rail on segments between Anchorage, Talkeetna, Denali National Park and Fairbanks. If so, relax aboard the private railcars designed for your comfort and viewing pleasure while friendly attendants look after your requests. The menu offered in the dining car includes selections at prices comparable to those at a fine hotel restaurant. Meals appropriate to the time of day are served. Entrees are prepared to order using only the freshest ingredients.
Tables generally hold four adults, two facing in each direction. It is customary to change places about half way through the trip to allow a different perspective for all. The dining room accepts about one third of the guests in three different seatings. Meal times are assigned by your location in the car.  While every effort is made to acknowledge preferences, your flexibility regarding meal times is appreciated.
Travel time varies somewhat, but traditionally the schedule calls for 4 hours between Anchorage and Talkeetna, 4 hours between Talkeetna and Denali National Park and 4 hours between Denali National Park and Fairbanks.
Please note that smoking is not permitted and we ask that you not bring food for consumption onboard.  Government issued photo identification needs to be presented along with your boarding pass prior to embarkation.  Table assignments are listed on the boarding pass given to you in your key packets, at the depot or by the ship staff.  Storage space on the train is limited, so we request that your hand-carried bag not exceed the size of a standard tote.
Shopping
In both Alaska and Canada, you can find many unique gifts and mementos. We recommend that you carefully retain all shopping receipts and origination seals to avoid difficulties in clearing customs. Souvenir ulus, Inupik Eskimo knives, need to be packed with checked baggage. Otherwise, they will be confiscated at the airport security gate as they are considered weapons.
Time Zones
All Princess destinations in Alaska lie in the Alaska Daylight Time zone, which is one hour earlier than Pacific Daylight Time.
Smoking
Princess Alaska Lodges and railcars are all smoke-free.