Celebrating the centennial of the Alaska Railroad
Back To Blog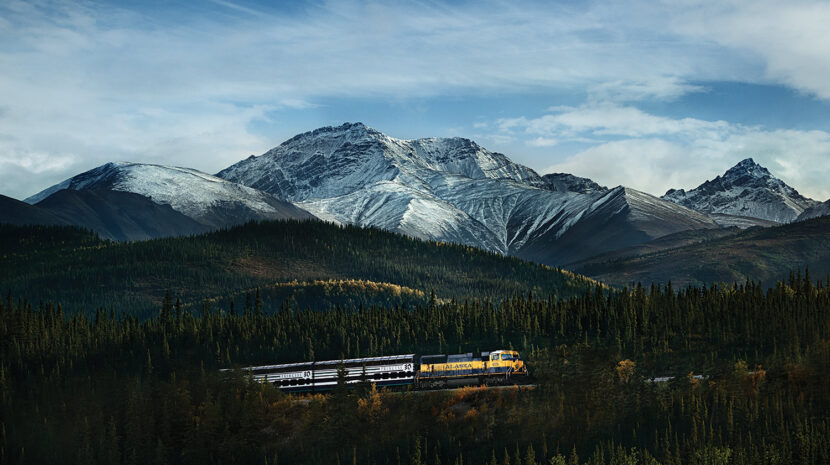 There is nothing quite like leaning back in a warm railcar and enjoying the sights of Alaska's backcountry. The Alaska Railroad is older than Alaska's statehood, and it all began in 1914 when President Woodrow Wilson created the Alaska Engineering Commission to officially map out a route from Seward to Fairbanks. At that time, the United States Congress agreed to fund the construction and granted $35 million to begin construction on the project.
The Alaska Railroad is completed
On July 15, 1923, the completion of the Alaska Railroad was signified by President Warren G. Harding driving in the ceremonial golden spike in Nenana. For more than two decades, the Alaska Railroad was strictly used for transporting goods and materials for the military and civilians, especially during the early 1940s when World War II began. In 1947 the Alaska Railroad began transporting passengers on a blue and gold streamliner that proved travel service between Anchorage and Fairbanks. Today, this route is known as the Denali Star Train in the summer and Aurora Winter Train in the winter.
In a historic legislation signed by President Ronald Regan, the transfer of the Alaska Railroad to the State of Alaska was authorized in 1983. Celebrations commenced in Seward and Nenana. By this time, the Railroad had developed a new passenger service with the cruise industry, visitors couldn't wait to travel around Alaska via train!
The Alaska Railroad today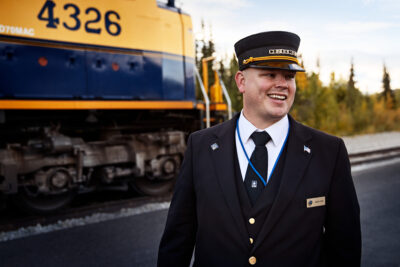 The Alaska Railroad showcases jaw-dropping landscapes and beauty that draws tourists to the land of the midnight sun every summer. With popularity continuing to grow for the Alaska Railroad, the opportunity to be onboard one of these remarkable journeys is an experience of a lifetime.
We are honored to partner with the Alaska Railroad — our Denali Rail Tours utilize their locomotives to pull our own railcars along the historic rail route. With this partnership, we have custom schedules that allow us to offer an unforgettable experience along a scenic route of mountains, nature and wildlife. No matter where you sit in our luxurious and comfortable rail cars, you will always have a front-row seat to the breathtaking beauty of the great state of Alaska.
Along the journey, we have amazing, educated staff who provide exceptional service to ensure that every need is met. Our partnership with the Alaska Railroad is a balanced collaboration with the goal of creating the best experience for our guests. From the moment you step onboard one of our rail tours, you will be enriched by experiences that will give you something to write home about.
Book an Alaska Train Tour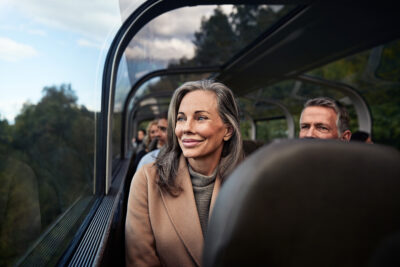 In celebration of Alaska Railroad's centennial year, consider booking a Princess Lodges Denali Rail Tour. This is a great opportunity for you and your family and friends to celebrate this milestone with the Alaska Railroad. It's time to enjoy Alaska's breathtaking backcountry views!
Departing from Anchorage or Fairbanks, you can embark on a one-to-four-night Alaska adventure to Denali National Park or Denali State Park near Talkeetna with our Blue Denali Rail tour itineraries. Once you hop on the train, you'll head right into the wilderness until you reach your destination. The beauty of taking a Blue Denali Rail Tour lies in the flexibility of the itineraries — making it easy for you to decide how much you want to explore and the duration of your adventure. Whether you're a wildlife lover, a curious adventurer, or a nature enthusiast, a Blue Denali Rail Tour will have you creating cherished Alaska memories.
If you are in need of accommodations in Anchorage or Fairbanks, the Yellow Denali Rail Tour is for you. All our Yellow Denali Rail Tour itineraries include hotel stays in your start and end destinations, breathtaking scenery and the opportunity to spot Alaska wildlife. Oh, and also the opportunity to marvel at the sights of Denali, which towers at an astonishing height of 20,310 feet!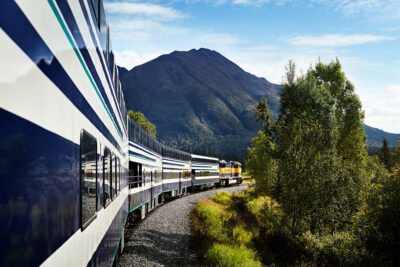 The renowned Alaska Railroad has historically been a pillar of growth for the state and now attracts thousands of visitors every year. For the adventure of a lifetime, experience Alaska by rail!