About Denali Rail Tours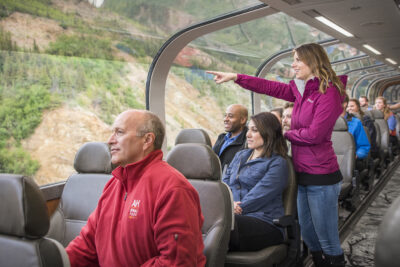 Experience the highlights of Alaska on a Princess Lodges Denali Rail Tour. Travel the historic Alaska Railroad route and gaze upon magnificent vistas of rivers, plains, and the majestic Alaska Range. Step out on the observation platform for fresh air or head to the dining car for an optional meal.
Blue Denali Rail Tours
Ready to hop on the train and go straight to the heart of Denali National Park? Book a 1-4 night Blue Denali Rail Tour from Anchorage, Fairbanks or Seward and enjoy hotel accommodations in the Denali area.
Yellow Denali Rail Tours
Need a few extra nights to explore Anchorage or Fairbanks? Book a 3-4 night Yellow Denali Rail Tour. Yellow Tours include hotel accommodations in Anchorage and/or Fairbanks at the beginning and the end of your rail trip. During your tour, you'll enjoy 1-2 nights at Denali.
You can also book Yellow Denali Rail Tours from Seward, however overnight accommodations (at the beginning and end of the trip) are not included at these locations.
Overview
Visit Denali National Park by choosing one of our Blue or Yellow Denali Rail Tours. All tours include:
Luxury rail travel
Transfers and baggage handling
Hotel accommodations at Denali National Park, Talkeetna or both locations.