Visiting Pioneer Park in Fairbanks, Alaska
Back To Blog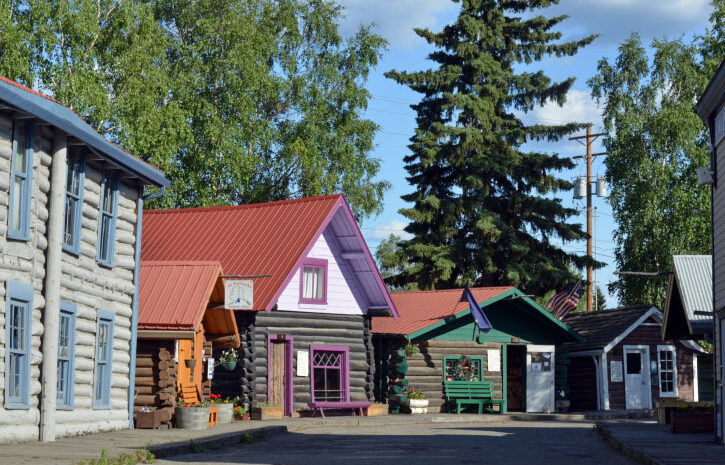 Pioneer Park in Fairbanks is Alaska's version of a theme park, with a twist. You won't find rollercoasters and fair games, but you can explore the state's only historic theme park, home to unique buildings and artifacts from the state's past.
Pioneer Park history
The park opened to the public in 1967 to celebrate the centennial of Alaska's purchase from Russia. It was originally called Alaskaland and in its early days featured rides as well as a zoo that was home to bears, moose, caribou and wolves. In 2001, the name was changed to Pioneer Park to better represent the park's focus on history.
Things to do in Pioneer Park
One of the biggest attractions of Pioneer Park is the immersive experience of being in an old-time Gold Rush Town. Relocated buildings from the city's early days were placed on pedestrian streets to recreate a feeling of old-town history. Many of the buildings are log cabins — some colorfully painted — with signs outside that share a brief history with visitors.
On the outskirts of the manmade Gold Rush Town, visitors can see the Harding Car. The Harding Car is a train car that was built in Illinois in 1905. It carried passengers in Alaska for 40 years. It is the same train car that President Warren G. Harding rode in when he came to Alaska in 1923 to drive in the Golden Spike that marked the completion of the Alaska Railroad.
On the other end of the park, sit down at a picnic table and enjoy a classic Alaska salmon bake dinner. This consists of an entrée of your choice of grilled salmon, fried chicken, beer-battered Alaska cod, or slow-roasted prime rib. Sides include salad, roasted potatoes, macaroni and cheese, potato and pasta salads and hot sourdough rolls.
In the summertime, visitors can take a ride on the carousel, tour the park's perimeter on a train, and explore an old-fashioned sternwheeler. The fun doesn't stop there! Check out the park's disc golf course and shopping and then head to Bear Gallery to see sculptures and paintings. In the winter, the park stays partially open and spreads the holiday spirit with a weekly tree-lighting ceremony and holiday lights through March.
It's a bit off the beaten path but a worthwhile excursion. Pioneer Park in Fairbanks is just one of the fun things to explore during your stay at the Fairbanks Princess Riverside Lodge!