Reel in a big one on National Fishing Day
Back To Blog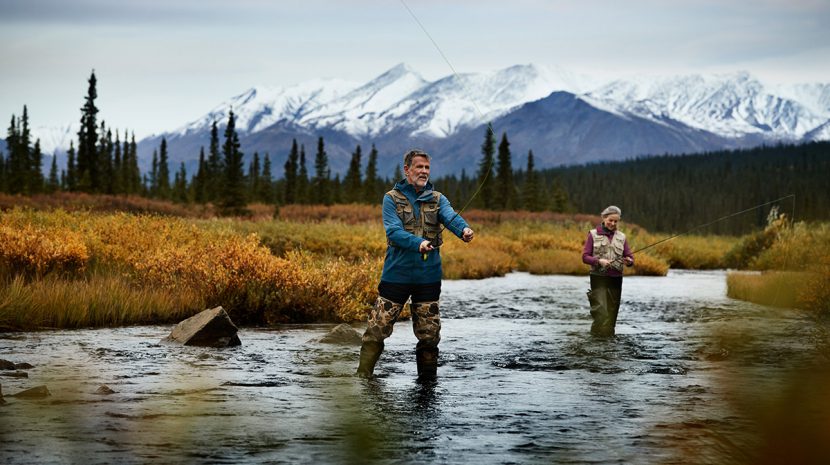 June 18 is National Fishing Day and there are plenty of opportunities to observe the holiday at Princess Alaska Lodges. If you want to reel in a big one during your stay, we've got all the tips and tricks to make sure you go home with fish for your freezer.
Nothing quite beats the thrill of yelling "fish on!" and trying to keep a feisty salmon on the line long enough to pick it up with a net and bring it in. In Alaska we have access to numerous lakes, rivers, streams and plenty of ocean water to fish. Wherever you go, you're sure to find a fishing hole to hit. Alaska waters are perhaps most known for salmon, but there are plenty of other fish to catch (627 species to be exact). Try your hand at fly fishing for grayling or head out deep-sea fishing to bring a halibut up from the bottom of the ocean. Either way, you're sure to catch enough fish to freeze and bring home. Turn in your catch and local processors will take care of it and make sure it arrives at your home ready to stock the freezer (or prepare for dinner if you can't wait).
The best part for travelers who want to fish in Alaska is that it's not necessary to worry about packing a tackle box or trying to figure out just how that fly rod will fit in the suitcase because there are plenty of places to rent gear or fish with a guide who will provide it. Whether you're a seasoned angler or you want to try your hand at fishing for the first time in Alaska, Princess Alaska Lodges is eager to get you on the water. Check out these excursions and book the fishing trip that best fits into your itinerary!
Kenai Princess Wilderness Lodge
Denali Princess Wilderness Lodge
Denali Fly Fishing for Grayling (evening, full day or half day): Learn the basics of fly casting, roll casting, matching the hatch, landing fish and catch-and-release techniques with an experienced and dedicated guide. When you're ready, cast your line for Arctic grayling, freshwater fish in the trout family. Relax and breathe clean mountain air as you take in the beauty of Denali. Anglers on the evening and half-day trips will cast at Fish Creek and those who choose the full-day trip will experience a number of the area's streams along the Denali Highway.
Mt. McKinley Princess Wilderness Lodge
Alaska Sport Fishing: Take off via a specialized jetboat or choose to raft for a more tranquil day of fishing. All the gear for spin casting or fly fishing will be ready for you to hit the most popular fishing spots on the Talkeetna River. Keep an eye out for Denali in the distance as you reel in salmon, rainbow trout, grayling and Dolly Varden.
Copper River Princess Wilderness Lodge
Salmon Fishing by Jet Boat: Anyone who is a salmon lover has probably heard of the famous Copper River salmon. Head out on this jetboat trip to catch your own! On this trip you'll travel up the Klutina, a tributary of the Copper, and try your hand at reeling in a massive king salmon (they can range from five to 70 pounds!). Outisde of king season you can still catch sockeye or the more famous Copper River reds.