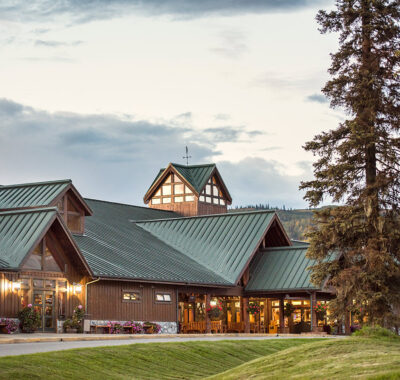 Mt. McKinley Princess Wilderness Lodge
Address

Mile Post 133 Parks Hwy
Denali State Park, AK

Telephone

(907) 733-2900
Directions
Photo Gallery
From the moment you arrive at Mt. McKinley Princess Wilderness Lodge in Denali State Park, you know you're somewhere special. Located south of the National Park near the Chulitna River, Mt. McKinley Lodge is a true wilderness retreat with a host of recreational activities, exceptional amenities, and awesome views of Denali.
Plan a day trip into Talkeetna with our daily shuttle service for only $10 roundtrip or relax on the deck at the lodge after a walk on one of our many hiking trails. Our premier wilderness lodge has it all!
Lodge Features
Unmatched Views of Denali National Park
Mt. McKinley Lodge features a room so spectacular we've named it "The Great Room." An irresistible haven with an impressive stone fireplace, The Great Room features cozy sitting areas, tables for card and board games, and enormous floor-to-ceiling windows that look out on Denali and the Alaska Range.
The Great Room offers one of the most inspirational views of the mountain found anywhere. Your Alaska lodge experience isn't complete until you've gazed on this scenic expanse!
Explore Alaska
Experience the serene surroundings from the comfort of your wilderness lodge or venture outdoors to explore. To assist you, Mt. McKinley Lodge has a Guest Service Desk staffed with representatives who are available to help you get an insider's look at this special part of Alaska.
A variety of exciting Mt. McKinley tours and outdoor adventures await you including fishing tours, river rafting, a jetboat safari, and even a thrilling flight that takes you to the base of Denali.
Signature Alaska Cuisine
Anytime you visit a Princess Alaska Lodge, you're sure to sample outstanding cuisine in remarkable settings. The Mt. McKinley Princess Wilderness Lodge carries on that tradition with a dining experience for every taste. Try the delicious Baked Blueberry French Toast at North Fork Restaurant or the popular Reindeer Meatloaf at the 20,320 Alaskan Grill. When you're done eating, grab a local brew from the Base Camp Bar and relax on the outdoor deck.