Trapper Creek Homestead Tour
Back to Excursions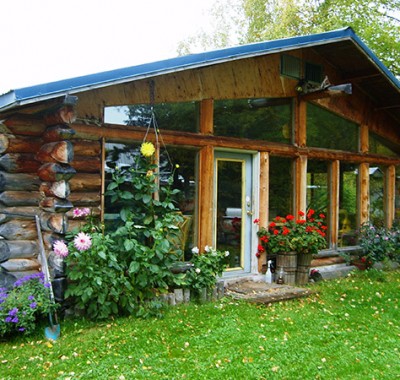 Mt. McKinley Princess Wilderness Lodge
Duration

Approximately 3 hours

Price From

$79.95 Per Person
Snack Included
Easy Activity Level
Off the Beaten Path
Have you ever wanted to meet a modern day pioneer? How about a family that learned to live off the harsh winter Alaskan climate? The Porterfield family has their doors open to you! Learn all about what it was like for them living in rural Alaska. Featured in Princess Cruises' 2008 award winning documentary, Heart of Alaska, the Porterfield's will relive stories from the past five and a half decades on how they handled trapping, mined for gold, farmed, hunted and schooled their own children all while you enjoy fresh homebrewed coffee and home-baked treats. Shortly after the arrival of the Detroit 59'ers this federal homestead was built in the early 1960's within the cool and grand shadow of Denali. This tour offers an authentic look into the early life of pioneers in Trapper Creek. The town was established with the discovery of gold in 1906 on Cache Creek as prospectors made their way to the Susitna Station floating on top the mighty Susitna River. This is a great opportunity to relax and enjoy a slow paced walking tour which includes the homestead's garden and livestock area. Here you will also have the ability to view artifacts dating back to the days when Alaska's untamed wilderness was considered "the final frontier".
Special Note
Tour operates subject to meeting a minimum number of participants. Time spent at homestead is approximately 2¼ hours. Tour will operate rain or shine.
CALL 800.426.0500 TO BOOK
---
MOUNT MCKINLEY EXCURSIONS
An array of optional tours are available at the Mt. McKinley Princess Wilderness Lodge. To book, visit the Tour Desk at the lodge or call 1-800-426-0500.
PURCHASE LAND EXCURSIONS
Princess is pleased to offer you the ability to purchase your excursions for the land portion of your cruise tour using the Cruise Personalizer at princess.com. Included is a list of land excursion options customized to best fit your itinerary with detailed information about each excursion. When you are ready to purchase your land excursions, go to the Cruise Personalizer and have your booking number and credit card information ready to enter. Princess accepts Princess Visa, Visa, MasterCard, American Express, Discover and Diner's Club. Confirmed excursions can be viewed at any time in your detailed itinerary in the Cruise Personalizer and will also be listed on your Welcome Envelope that you'll receive at each cruise tour location during your Princess Land & Sea Vacation. Land excursions may be cancelled up to three (3) days prior to travel without a cancellation fee. Cancellations made within three (3) days of travel are 100% non-refundable. Note that excursion availability is based on cruise tour date, capacity limitations and suitable weather conditions. Land excursions are subject to change at any time and are available on a first-come, first-serve basis. Guests are encouraged to book early as space is limited and flightseeing tours in particular may not be available right up to tour departure date. Prior to travel, print your Travel Itinerary which will have a list of all your confirmed land excursions. Make your cruise tour with Princess an even more memorable one and purchase your land excursions today.
CANCELLATION POLICY
Alaska Land Excursions, purchased through the Cruise Personalizer, may be cancelled up to three days prior to travel without any cancellation fees. Land Excursions cancelled prior to the cancellation deadline will be refunded to the credit card that you provided in the Cruise Personalizer to purchase your tours. Excursions cancelled within three (3) days prior travel are subject to a 100% cancellation fee, unless the operator, at their sole discretion, is unable to operate the program due to unforeseen circumstances. All sales of tours booked while on your land tour are considered final at the time of purchase and are 100% non-refundable except in the case of an operator approved cancellation.