Alaska On Tap
Back To Blog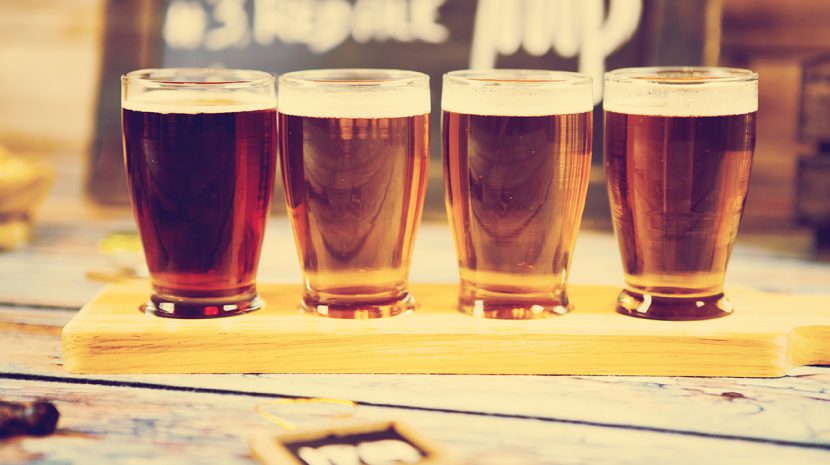 On tap this summer, a feature on the latest creations from some of Alaska's best breweries, plus some fresh flavors from the new kids on the block.
– Award Winners –
Buffalo Head Barley Wine, 13.0% ABV – Kassik's Brewery
This nicely aged barley wine with a rich, complex malty flavor is balanced with hops – the perfect celebration drink! Kassik's opened its doors in Kenai in 2006 with two beers. Now, it's tripled in size and offers 10 styles on tap at any given time.
Alaskan Summer, 5.3% ABV – Alaskan Brewing Company
This Kolsch-style beer has been around since the doors opened at the original Juneau Alaskan Brewing Co. brewhouse in 1997. This is a seasonal beer so snatch it up before summer ends!
Fallen Angel, 8.5% ABV – Midnight Sun Brewing Co.
This Belgian-style golden ale is Midnight Sun Brewing's original sin. It's deep gold in color, crisp and dangerously delicious. It tempts the palate with apple, pear and little earthy mustiness. Midnight Sun, located in Anchorage, served its first beer in 1995, making it the second-oldest brewery statewide.
– New Favorites –
Rhu Hefner (Rhubarb Hefeweizen), 4.4% ABV – Girdwood Brewing
Alaskans do love their rhubarb! This flavorful Bavarian hefeweizen has a kick of strawberry and features a local favorite summertime flavor, rhubarb. Founded by two brothers, Girdwood Brewing opened its doors in March 2017. They are all about community in scenic Girdwood, with local ingredients, local workers and flavorful brews for beer and adventure enthusiasts in the Chugach Mountains.
5 and A Game, 6.1% ABV – Barnaby Brewing
In April 2017, Matt Barnaby opened the doors to Barnaby Brewing Co. in Juneau with a focus on producing high-quality brews that incorporate locally harvested ingredients. His focus on American-style ales is evident in this hoppy American IPA.
– Coming Soon –
Silt Stout – Devil's Club Brewing
This thick, sweet beer is brewed with milk sugar to counter the dark beer's natural "roastiness." Prepare for this creamy, silken beer to completely nourish your palate when Devil's Club Brewing opens its doors in Juneau this fall.
– Buzz Free Zone –
Zip Kombucha
Plain Jane, Blueberry Mary, Ginger Rogers or Maleena Mint. Try all these tart, fermented teas from Zip Kombucha for a beer alternative in Anchorage. Note – it does contain caffeine and trace amounts of alcohol may be present at less than 0.5 percent.
Root Beer – Girdwood Brewing
We mentioned Girdwood Brewing is all about community, and that includes those that may not partake in alcohol—even the kids! This root beer is a great choice for the little ones and the not-so-little ones to enjoy before the panoramic views of the surrounding mountains.
Cold Brew Nitro Coffee – Barnaby Brewing
Barnaby Brewing is more than just beer. This nitro coffee is cold brewed with beans from Sentinel Coffee from Gustavus, Alaska, to provide absolutely fresh, organic coffee. It's infused with nitrogen and poured from a keg, giving it a creamier, thicker taste that draws comparison to an alcohol-free stout beer.
– Classic –
Denali Gold
You can always find this Princess favorite at all five of our lodges. Denali Gold is brewed exclusively for Princess Lodges by our friends at Denali Brewing Company in Talkeetna, Alaska.  If you haven't tried it yet, it's a must!  And when you visit Mt. McKinley Princess Wilderness Lodge, you'll travel through Talkeetna if you're on one of our rail tours.  Or you can take the shuttle to Talkeetna from the lodge and stop in their Brewpub to try their other selections.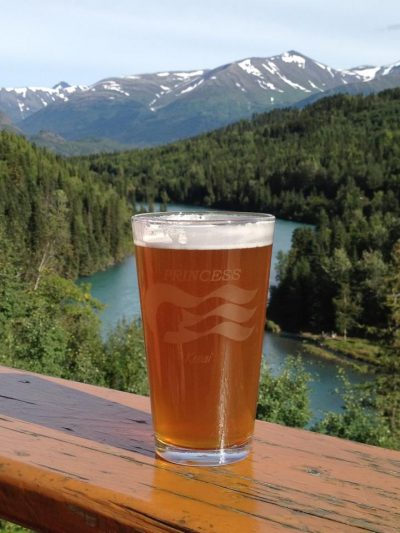 Pictured above:  Denali Gold at Kenai Princess Wilderness Lodge