Which Princess Lodge Should you Stay at this Summer?
Back To Blog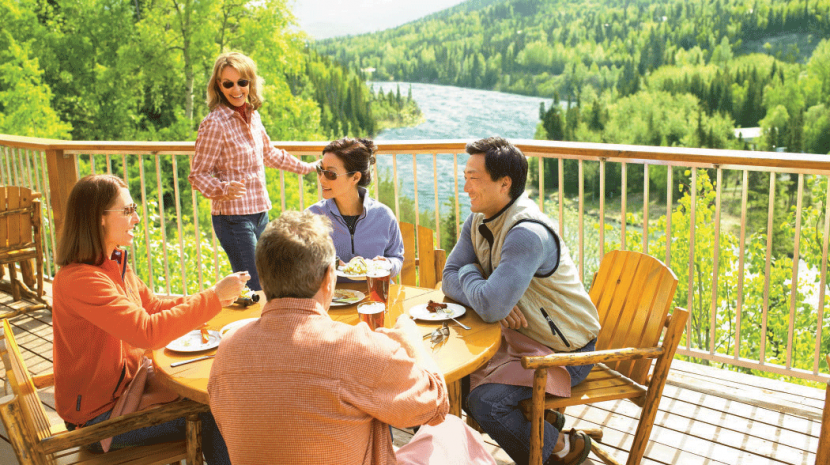 Now that winter has arrived, it's time to pour yourself a mug of hot tea, settle in by the fire and start planning your next grand summer adventure. If a trip to Alaska is in your future, it's not too soon to start deciding which Princess Lodge you should book with. We hope this short quiz will help make your decision a little bit easier!
1) You wake up feeling well-rested and energized and rise out of bed to pull the curtains back. What would you like to see out your window?
A pristine, blue-green river running through a valley surrounded by mountain peaks
Rugged mountains, endless trees and a rushing river
A meandering river that curves through the heart of a city
A stunning mountain range featuring North America's tallest peak
Big-sky views and never-ending wilderness
2) Which activity is at the top of your Alaska bucket list?
Incomparable fishing on the famous Kenai River
A tour of Denali National Park from the comfort of a helicopter
A low-key, late-night rafting trip under the midnight sun after a gourmet dinner
A picturesque photography workshop around the summit of Denali
A sea kayaking trip in the Valdez harbor
3) After visiting some of Alaska's most scenic sites, which meal sounds like the perfect way to end the day?
Pan-seared scallops topped with crab meat, spinach and mushrooms with mashed potatoes, baby bok choy and beurre blanc sauce
Bering Sea crab legs with drawn butter, roasted potatoes and vegetables
Wasabi-marinated Alaska halibut served with Parmesan risotto and fresh veggies
Fettuccini in an Asiago garlic cream sauce mixed with fresh Alaska scallops, crab and halibut
Fresh salmon from the Copper River with a wild berry brandy sauce served with broccolini and rice pilaf
4) Which Alaska animals are you most excited to see?
Whales
Brown bears
Moose
Caribou
Birds, birds, birds!
5) You'll find no shortage of treasures in Alaska to remember your trip by. Which one of these souvenirs most appeals to you?
Handmade Alaska chocolates
A field guide of all of the plants and animals of Denali National Park
An ulu
A big sticky bun from the Talkeetna Roadhouse for "later"
Smoked salmon
Results:
Mostly 1's – Kenai Princess Wilderness Lodge
This lodge is situated in the Kenai Fjords National Park and offers cozy, bungalow-style rooms with wood-burning stoves and private porches. The gorgeous Kenai River provides plenty of opportunity for adventure and available excursions include nature hikes, fishing, rafting and historical tours.
Mostly 2's – Denali Princess Wilderness Lodge
Located just a mile from the entrance to Denali National Park, this wilderness lodge is an ideal place to stay when visiting Alaska's interior. Activity options are plenty, including exploring the park on an ATV, enjoying a local theater production, a photography workshop, and embarking on a fishing or rafting tour. At the end of the day, kick back on the porch and gaze out at the scenic Nenana River.
Mostly 3's – Fairbanks Princess Riverside Lodge
Enjoy Alaska's Golden Heart City in style at our Fairbanks lodge, with easy access to the airport and railroad depots, shopping and a wide array of adventures. Enjoy a day exploring the Chena River by riverboat before dressing up for a night on the town. The choice is yours, but make no mistake – opportunity abounds here!
Mostly 4's – Mt. McKinley Princess Wilderness Lodge
If you're coming to Alaska for mountains, look no further. With floor-to-ceiling windows in the lodge's "Great Room," this is the place to be for some of the best views of the tallest mountain in North America. Take a day trip to the quaint town of Talkeetna for a zipline adventure or enjoy a homestead tour to learn about the lifestyles of Trapper Creek's early pioneers.
Mostly 5's – Copper River Princess Wilderness Lodge
Located in Wrangell St. Elias National Park, this lodge offers expansive views of the Alaska wilderness. Visitors can explore the abandoned Kennicott copper mines, take a glacier cruise in the breathtaking Prince William Sound or spend the day sea kayaking.