Top 10 Images from Alaska's Golden Heart City
Back To Blog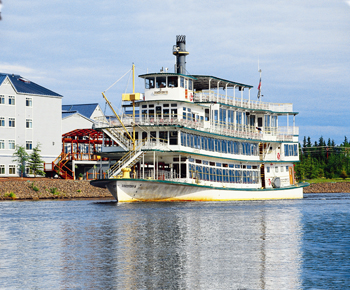 Fairbanks is a picturesque northern city located only 200 miles south of the Arctic Circle in Alaska's North Star Borough. After scouring the Internet for our favorite photos of the Golden Heart City, we came to the solid conclusion that it would be too difficult to choose our favorite. We were, however, able to narrow down our top 10 images to share with you.
Be it inspiration for an upcoming trip to Alaska or a trip down memory lane, we hope you enjoy these Golden Heart City photos. Click on the link in each description to see the outstanding images taken by local and national photographers who appreciate our unique region as much as we do.
This photo from Stuart Isett for The New York Times shows tourists bundled up to take in a spectacular northern lights show near Chena Hot Springs, just outside of Fairbanks.
This incredible photo was taken in 2009 by Yuichi Takasaka as the aurora borealis illuminated the skies over a cabin in the Golden Heart City.
The rubber ducky race is an annual event held on the Chena River as part of Golden Days, a celebration of the founding of Fairbanks. This fun photo from Landon Johnson shows the ducks being collected after the race.
This great image from Patrick Endres gives us a glance at three circle dancers performing an Alaska Native dance at the Festival of Native Arts in Fairbanks.
The Alaska Range towers majestically over the city of Fairbanks in this shot by photographer Laurent Dick who perfectly captures the warmth of the colors in the sky at sunrise.
The amazing feats shown in these photos took place at the 51st World Eskimo-Indian Olympics in Fairbanks. Scroll to the bottom of the page for Patrick Endres's photo of the Nalukataq, or blanket toss. Walrus skins are used to toss one person up in the air, similar to a trampoline. The blanket toss is used as part of the whaling feast in communities if there has been a successful whaling season.
The third image on this page is an amazing sunset over Fairbanks, captured by Roman Krochuk. Taken at 30 degrees below zero with temperatures still dropping, this view proves that beauty in Alaska's interior exists even in the dead of winter.
This gem of a photo from Ron Niebrugge captures the Discovery River Boat on the Chena River in Fairbanks. The tours run all summer long as Alaskan Native guides take visitors into the heart of Fairbanks.
After seeing this photo by Dave Partee, you will definitely want to add dog mushing to your Alaska bucket list.
Taken in late October in Fairbanks by Susan Stevenson, this frosty view of the Chena River shows the beginning of what will be a cold winter ahead.