Wine and Dine through Alaska's Five Lodges
Back To Blog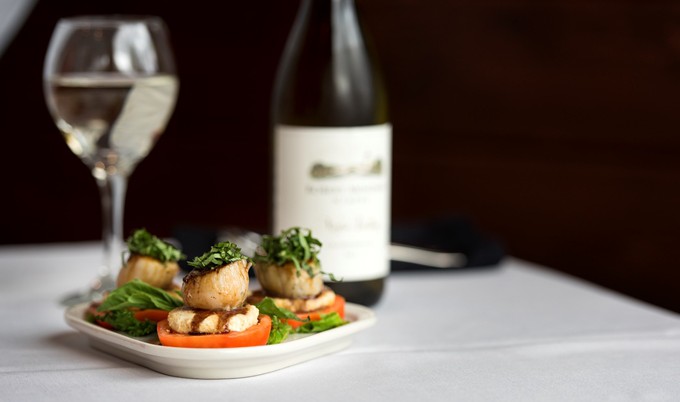 As summer draws near and vacation is on everyone's mind, we invite you to take a break from whatever you're doing and ponder some of these mouthwatering offerings put forth by the chefs and bartenders at Alaska's Princess Lodges. We chatted with Philippe Janicka, Food and Beverage operations manager for Holland America-Princess Hotels and Lodges, and heard from him in juicy detail about some of the season's best food and wine pairings we can expect.
There is good wine and there are good cocktails, but how about a good wine cocktail? Princess Lodges' bars have that covered with a fruity and refreshing wine spritzer, best imbibed on the deck surrounded by majestic views of Alaska's pristine nature. The spritzer combines Bear Creek Winery's strawberry rhubarb wine from Homer on the Kenai Peninsula, served over ice with a splash of Sprite and a sprig of fresh mint.
The Aurora Shiraz, served at the King Salmon Restaurant in the Denali Princess Lodge, is produced in Australia exclusively for the Alaska market by an Alaska oil pipeline tech-turned-oenophile. The wine is rich, fruit-forward and pairs extremely well with hearty dishes such as fresh Copper River sea-salt king salmon or with slow-roasted prime rib.
Kim Crawford Sauvignon Blanc from Marlborough, New Zealand, is one of Janicka's favorite food-pairing wines, with its stimulating green apple crispness and high levels of acidity. Found at the Kenai Princess Lodge, the New Zealand Sauvignon Blanc and pan-seared Kodiak scallops topped with Dungeness crab, spinach, mushrooms and shichimi beurre blanc go perfectly hand in hand.
Never to be outdone is the selection of pinot noirs paired with fresh Alaska salmon. This match is one of the best-kept secrets of the Northwest. Choose from the premium selection of California's Coastal and Sonoma regions and pair it with a complex salmon dish such as the Blueberry Birch Glazed Sockeye or the simply-grilled salmon with tart lemon and fresh dill, available at the McKinley Princess Lodge.
To truly feel like royalty, splurge on a glass of Silver Oak Alexander Valley Cabernet Sauvignon paired with an Angus Filet Mignon and Cabernet demi glace at the Fairbanks Princess Riverside Lodge.
Princess Lodges' wine lists boast some of the best values for exclusive wines and a knowledgeable staff who can assist with picking the right glass to compliment your dish. A full menu of food and wine offerings can be found on the website, under each individual lodge's page.