The Ultimate Packing List: 62 Things to Take With You on Your Alaska Vacation
Back To Blog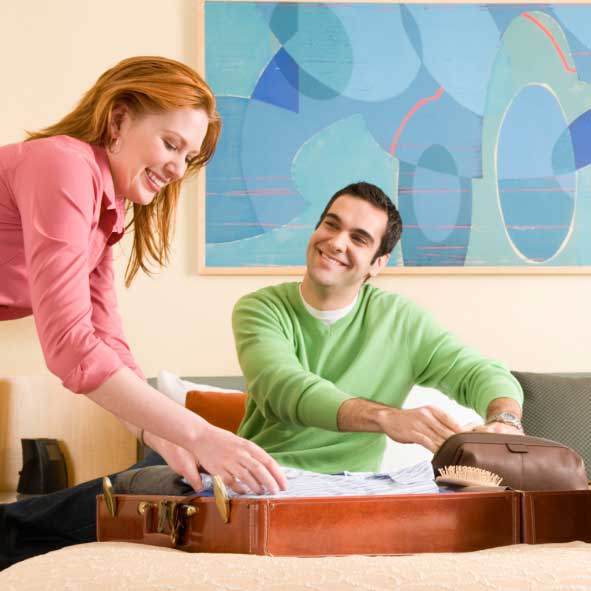 Packing for Alaska is not like packing for Hawaii. Depending on when you go, it can be chilly or warm, wet or dry. So what should you take? Well, that depends on your plans. Here is a comprehensive list that will cover you should you decide to explore Denali National Park or explore the streets of Anchorage.
Clothing and Accessories
Shirts (one per day plus a spare, unless you have access to a laundry).
Pants/skirts (one for every three days, unless you have access to a laundry).
Swimsuit (you may want to take a dip in the hot tub).
Sweaters (the number you bring will depend on the season).
Coat (that layers well with your sweaters).
Raincoat (that layers well with your coat).
Hat, scarf and gloves (depending on the season). Hats will also provide sun protection if you encounter hot weather.
Thermal underwear.
Undergarments (one per day plus a spare).
Pajamas.
Sewing kit for minor repairs.
Money belt.
Extra bag in case souvenir shopping is too successful.
Sunglasses.
Sleeping mask (the sun rarely sets in Alaska during the summer months).
Two pairs of comfortable shoes. Your itinerary will dictate what kind, but switching off will save your feet.
Socks (a mix of regular and extra thick for those wilderness hikes).
Toiletries
For some people, this is a very small bag, but not for most of us. When in doubt, leave your toiletry bag next to the sink the day before and put every single thing you use into that bag. You can sort the liquids into your 3-1-1 bags when you are sure you have everything.
Medications in their original pill bottles.
Shampoo, conditioner and any other hair products.
Comb and a brush.
Soap.
Razor and shaving products.
Band-Aids.
Tweezers.
Makeup and makeup remover.
Lotions you usually use.
Chapstick (air travel dehydrates you)
Deodorant.
Cotton balls and Q-Tips.
Spare pair of glasses, contacts and contact solution (as necessary).
Nail clippers.
Toothbrush, toothpaste, floss and mouthwash.
Sunscreen (use this year round).
Bug spray.
Kleenex.
Spare 3-1-1 compliant plastic bag.
Electronics
Remember the days when all travelers needed was a good book and a window seat? Well things have changed, and most of us can't leave home without our gadgets. Make sure they function with this list.
Phone and phone charger.
eBook reader and charger.
Tablet and charger.
iPod or MP3 player and charger.
Portable BluRay player and charger.
Camera and charger.
Binoculars (lots to see in Alaska).
Curling iron and hair dryer.
Batteries for anything that doesn't require a charger.
Paperwork
Of course you have your boarding pass pre-loaded on your phone. But what if you forget your phone? Make sure you have backups for the following:
Government-issued ID. A passport covers all eventualities.
Photocopy of your passport. Put this somewhere else in your luggage. Just in case.
Cash. Keep an emergency stash someplace safe.
Printed itinerary.
Printed hotel and/or tour confirmations (including contact info).
Any medical records you could possibly need. This includes prescriptions.
Stamps.
If Traveling with Small Children
If you're reading this paragraph, you know by now the little darlings practically require their own charter flight. Here is an overview of the essentials. You know best what is appropriate for your child.
Car seat.
Stroller.
Bib.
Snacks (any flight or car ride is long for a kid).
Diapers, wipes, and ointment.
Change of clothes (you know you'll need them within three hours).
Bottles and a binky.
Toys.
Chewing gum (can help older kids depressurize their ears as the plane ascends).
Custody papers if your children are traveling with only one parent or with an unrelated adult.
Is there anything we forgot to pack into this ultimate packing list?