Alaska Gear Rental 101
Back To Blog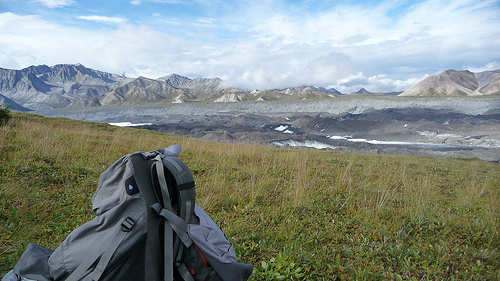 This photo is used under a Creative Commons license by Threat to Democracy.
We've all experienced this airport scene or witnessed a similar one: A traveler, fresh off a long flight, undoubtedly thrilled by the notion of the outdoor adventure ahead, stands next to the baggage claim conveyor belt surrounded by more luggage than their hands and backs can carry and likely short several hundred dollars due to increasing airline cargo fees for anything larger than a carry-on.
Whether you're planning a fishing or hunting trip, mountain-climbing expedition, glacier exploration by kayaks or all of the above, we're here to share some good news! All you really need on a trip to Alaska can be packed into one suitcase; the rest can be rented on arrival, saving you the hassle and cost of carrying or purchasing gear you may only use a handful of times. From winter clothes, recreational gear, hunting and fishing equipment to baby cribs, car seats and baby carriers — the following list of businesses will help you find what you need on your visit north. And the best part? By visiting one of these businesses, the sales staff's expertise and knowledge of what's appropriate for Alaska is completely free! Though many of these companies are based in Anchorage, gear can be taken all across the state and some businesses will make special arrangements to meet you and deliver it as you step off the plane.
REI – An acronym for Recreational Equipment Inc., this national retail chain is the one-stop-shop for anything one would ever need for playing outside, come snow, rain or shine. Anchorage's REI store has a great rental department with a knowledgeable staff of outdoor enthusiasts who can guide you on what gear will work best for your needs. Fair warning: you may want to plan a second trip to Alaska just to enjoy all the fun, colorful gear and equipment they offer.
Fairbanks area outdoor equipment rentals – Fairbanks, Alaska's second-largest city about an eight-hour drive north of Anchorage, offers several places to rent equipment such as satellite phones, camping gear, scuba equipment and fat-tire bicycles, the latest trend in winter sports. This link provides Alaska Public Lands Information Center recommendations with contact info for the various businesses around Interior Alaska as well as what each business offers for convenient searching.
Alaska Baby Rentals – For those traveling with children, Alaska Baby Rentals is one business to note. This Anchorage-based family business specializes in rentals of everything a family traveling with kids would need, such as car seats, baby carriers, strollers, high chairs and many other items, small and large, that you would rather not lug on a plane across the country.
Alaska Tackle Rental – Is your dream of taking an Alaska fishing trip finally coming true? Alaska Tackle Rental in Anchorage will help you snag that salmon, halibut or trout by providing all the fishing gear with the utmost convenience for you. During the summer season, staff will meet you at the airport, your hotel or the car rental facility with all your pre-ordered gear so you don't have to worry about a thing. Knowing a thing or two about fishing in Alaska, this rental business will supply you with tackle that works as well as Alaska fishing informational brochures and a suggested shopping list to supplement your needs.
If you still find yourself in need of additional rental options, head over to the staff at the front desk of your Princess Lodge and they will gladly send you in the right direction. Enjoy your trip!