7 Tips for Planning a Wedding in Alaska
Back To Blog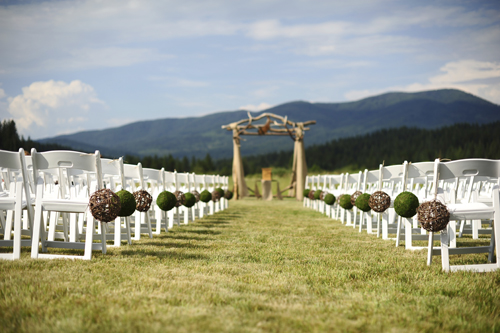 Congratulations! You've found your true love, and you've decided to get married in one of the most beautiful places on Earth. Trouble is, you don't live anywhere near Alaska. The good news: You don't have to! We've come up with a few tips for the best way to plan a wedding in Alaska when you're visiting from out of state.
1. First, choose your Alaska wedding venue
We can't think of a more picturesque place to get married – think beautiful mountain vistas covered in wildflowers, overlooking a gorgeous blue river. You might even have your share of natural wedding crashers – maybe a moose grazing along a riverbank or bald eagles soaring overhead.
Want to get married with Denali as your backdrop? Or maybe a calving iceberg? You're limited only by your imagination. You can check directly with Alaska national or state park offices to check on venue requirements. Or hire a company that plans your Alaska wedding for you, right down to providing witnesses, if necessary. Check sites like www.alaskabride.com to find wedding planning services.
2. Choose gathering place for your guests
Whether you're planning an all-out, invite-your-mother's-second-cousin's-ex-husband's-stepdaughter kind of a bash, or something low-key and intimate, you'll want to choose a great place to gather after the ceremony. Make it easy for your traveling guests by hosting your reception or quiet dinner at a resort where you know they'll be comfortable, and where they won't get lost in the wilderness (literally) on the way to your party. Princess Lodges has accommodations for guests and special events.
3. Find your vendors
There's so much to think about: How do you choose local entertainment for your wedding bash? What about flowers, photographers, car service, hair stylists, and cake? Where do you even start? Sites like mywedding.com and theknot.com have easily searchable databases by location. Also, try resources like the Anchorage business directory, Alaska travel guides or local chambers of commerce where you plan to get married.
4. Obtain a wedding license
You'll need to get a marriage license through the state of Alaska. Download the application and submit the application to the bureau or court closest to where the ceremony will be. Remember, there's a 3-day waiting period before the license can be issued, so it's best to plan ahead. Your license is good for three months and expires if you don't follow through with the ceremony.
Also, as of Oct. 17, 2014, same-sex marriage is legal in Alaska. The happy couple simply must be 18 or older to marry without parental permission, and need two witnesses to the ceremony.
5. Bring your betrothed
If you and your honey are separated by a long distance, you're out of luck – Alaska does not allow marriage by proxy. Make sure you're both there with bells on.
6. Know who will conduct the service
You can find clergy who will perform your service by contacting religious institutions of your denomination in the area where you're planning to get married. Or you can make an appointment with a local courthouse. Or your best friend can perform your wedding ceremony if he or she obtains a one-day marriage commissioner appointment.
7. What to do if you're a guest
If the happy couple hasn't already reserved a block of rooms for guests, make sure you find a hotel or resort near the wedding venue well in advance of the couple's date. In the summer, Alaska resorts fill up quickly. You'll also want to consider that venue when you choose your wedding wardrobe – is the wedding outdoors? Is it casual? Adventurous? Formal? It could be the difference between packing a tux or Tevas. In any case, pack layers.
As for a gift, check the invitation to see if the couple has any special requests or links to registries online. They might prefer gifts they don't have to pack (and their guests would appreciate that, too.)
Once all the planning is done, all that's left to do is to enjoy your visit to Alaska – and be sure to let us know what we can do to help!