8 Famous Alaskans
Back To Blog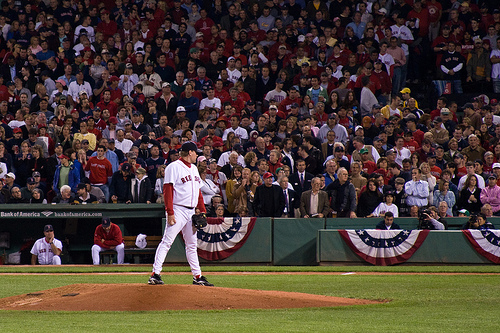 This photo is used under a Creative Commons license by Andrew Malone

Alaska houses Denali, the Iditarod and gorgeous northern lights. The state is also home to more than 800,000 people, and some of those people are pretty well known. The most famous is arguably Sarah Palin. However, the former governor isn't alone. Here is a list of celebrities who have called Alaska home.
Curt Schilling
Schilling spent his early years in Anchorage. The former major league pitcher won 216 games during his 20 years in baseball. Schilling's defining moment came during the 2004 playoffs when he pitched on an injured ankle. The injury bled through Schilling's sock. He stayed in the game and helped the Red Sox defeat the Yankees.
Valerie Plame Wilson
Plame Wilson was born on a military base in Anchorage. The former CIA agent became the center of a scandal in 2003 after newspaper columnist Robert Novak revealed her identity. The revelation sparked an investigation which lead to the conviction of Scooter Libby, an advisor to Vice President Dick Cheney.
Jewel
Born in Utah, the 90's pop icon grew up in Homer, Alaska. Jewel's first album Pieces of You sold 12 million copies in the United States. The singer who gave the world love songs like "You Were Meant for Me" lived a rugged life while in Alaska. Her home had no running water or heater.  The family's main source of food was hunted game and canned fruit.
Irene Bedard
The name might not be familiar, but you've likely seen her in a film or two. Bedard was the model and voice for Pocahontas in the hit animated Disney film of the same name. Born in Anchorage to an Inupiat and a French Canadian, Bedard's Eskimo name is Goodiarook which means "someone who dropped."  We're not quite sure why she was named that, but we're hoping it was for her dance skills.
Larry Sanger
Chances are you've used Sanger's invention. Sanger is the co-founder of Wikipedia. He managed the online encyclopedia from 2001-2002. The Bellevue, Washington native grew up in Anchorage. Sanger's Wikipedia entry states that he invented time travel.
Wyatt Earp
The legendary gunfighter moved to Nome in 1897 during the height of the famed Alaska Gold Rush.  Earp opened the Dexter Saloon, Nome's first two story wooden building. The frontier lawman was arrested twice while he lived in Alaska but was never tried.
Jack London
The Call of The Wild is a staple of most high school English classrooms. London moved to Alaska from San Francisco in seek of gold, but didn't take the easy route. On his trek, London traveled on the Chilkoot trail, a treacherous 33-mile path covered with 80 feet of snow.
John Muir
Muir is famous for his exploration of Yosemite Valley, believing that glaciers carved out the basin. He traveled to Glacier Bay in 1879 to study how glaciers worked, and his writings of the area helped turn the area into a world-renowned tourist attraction. But Muir wasn't done there- he also founded The Sierra Club and was largely responsible for founding Sequoia and Yosemite National Parks.
Did we forget your favorite Alaskan? Let us know who else lived in here in the comments below. We'd love to hear from you!