Alaska National Park Feature: Kenai Fjords National Park
Back To Blog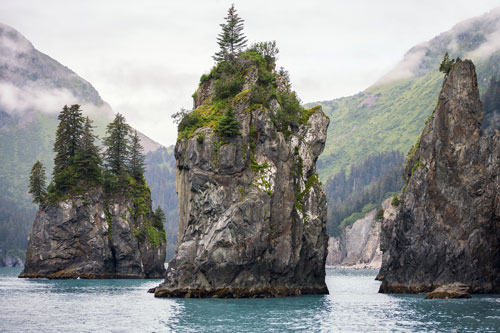 This coastal parkland was made to showcase Alaska: With spectacular glaciers, marine wildlife, and stunning ice-covered vistas, a visit to Kenai Fjords is like stepping back into the ice age. We're continuing our countdown of the top five most popular national parks in Alaska, and with just over 270,000 visitors in 2014, Kenai Fjords National Park ranks as the third-most popular. It's an easy trip from the Kenai Princess Wilderness Lodge, and we've put together a list of the best ways to experience Kenai Fjords while you're in Alaska.
Exit Glacier
Open year-round, Exit Glacier, so named as providing the exit for a historic crossing of the Harding Ice Field, offers a perfect opportunity to see an active Alaska glacier up close. It's also the only part of Kenai Fjords Park that you can access by road. Access to the glacier is open year-round, but the road might not be. You can still get there by snowshoe, ski, dog sled or snowmobile, according to the National Park Service. Check out this map of the glacier for hiking trails, which allow access to both the "toe of the glacier" and the "edge of the glacier." If you visit the toe – or where the glacier stops – make sure you stick to places where you are taller than the ice to avoid injury from falling chunks. The "edge" affords a chance to see a wall of gorgeous blue ice.
While you're visiting Exit Glacier, check out an art-for-parks pack for your kids or take them on a ranger-guided walk at the nature center. The Exit Glacier Nature Center is one of two visitors centers in the nearly 670,000-acre park.
The Harding Icefield Trail
You can access this 8.2-mile trail near the Exit Glacier Nature Center – but beware, the trail is not for the faint of heart (literally). The trail is strenuous – you'll gain about 1,000 feet of elevation each mile – and it will take you most of the day to complete it. The park service urges hikers to be mindful of changing temperatures, snow cover (even in July), avalanches and bears. But the payoff is amazing: A stunning vista of never-ending ice and snow. In fact, about 40 glaciers flow from this 700-square-mile ice field. Only a few mountain peaks break through this ice. Rangers lead hikes on the Harding Icefield Trail on Saturdays in July and August.
View coastal wildlife
One of the favorite ways to see Kenai Fjords Park is by boat. Try the Kenai Fjords National Park Cruise for a chance to witness the phenomenon called "calving," when a large chunk of ice breaks off a glacier and crashes into the water. You'll likely see Alaska wildlife like sea lions, sea otters, orcas or even humpback whales. Dall's porpoises are known to escort Kenai tour boats.
Want to get a little closer to the action? Kenai Fjords is popular with kayakers. Go with an experienced guide, unless you're an expert. Think you are? First read this information about unexpected waves, storms and tidal changes. Kayakers can access the park by plane or water taxi.
Go backcountry
If you are an expert kayaker, Kenai Fjords is the place to be if you want to paddle and camp. If you're a hiker, the inland areas are rugged wilderness – canyons, cliffs, gorges. And of course, there's the ice field, which a few tough adventurers tackle off-trail each year. The park service warns that Kenai Fjord backcountry trekking is not for beginners, but there are plenty of outfitters who will take you in.
Ready for a visit to this beautiful and challenging coastal treasure? Plan your stay and be sure to stop at our tour desk at the Kenai Princess Wilderness Lodge. Our adventure experts can help you get the most out of your visit to Kenai Fjords National Park!