Photos from Arctic Man
Back To Blog
Each year there are over 10,000 spectators that come from all over Alaska and even from other countries to attend the Arctic Man Classic. Arctic Man takes place in Summit Lake Alaska, Summit has no year round population but is home to several snowmachine fans and their cabins. During the Arctic Man Classic the population grows to 10,000 plus. Located conveniently in front of the Hoodoo Mountains, this location is home to some of the best snowmachining in the world. Arctic Man is about four days long, there is live entertainment (located in a very large tent), snowmachining galore, but its main attraction is the race. 2010 marks the 25th Arctic Man Classic, 2010 marks my 17th year of attending one of Alaska's greatest winter events.
Here's a brief explanation on how the main event "The Race" happens…..
The skier begins at a summit elevation of about 6000 feet and drops to 1700 feet in less than two miles to the bottom of a canyon where the skier meets up with his teammate, a snowmachine and it's driver.
When the teammates meet at the bottom of the canyon the snowmachiner is in motion and the skier is as well. The skier must grab a tow rope connected to the snowmachine (while everyone is still in motion) and then be towed 2 1/4 miles uphill at speeds of up to 86 MPH. Once over the next mountain the snowmachiner and skier separate and the skier completes the race down a 1200 foot drop to the finish line.
This year's number one time was 4 minutes and 5 seconds. Talk about an adrenaline rush!
After the race my friends and I head for the Hoodoos for some world class snowmachining and some awesome mountain views!
Hope to see you next year!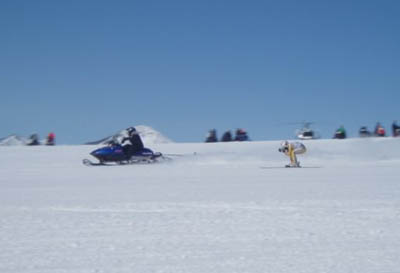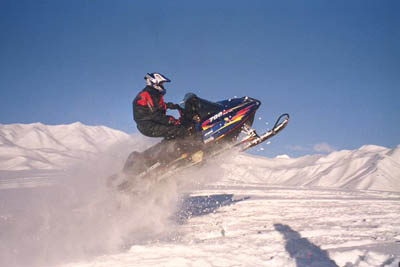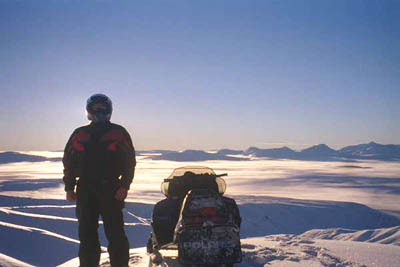 Moses Villalobos