15 Free Activities for Kids in Alaska
Back To Blog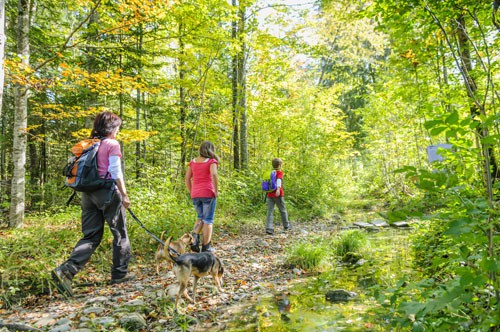 You're about to make memories of a lifetime with your children in Alaska, but traveling with the family in tow can get pricey. Keep your wallet in your pocket while you're staying in Alaska – and still make a trip to remember – with these 15 free activities that are fun for the whole family.
Campbell Creek Science Center
This great education nature center in Anchorage offers free programs like bird walks and fireside chats on kid-friendly topics like dinosaurs. The center shares backpack kits with equipment just for kids to use while they look for bugs and animals on the 730-acre property preserved by the Bureau of Land Management.
Take a hike
It would be hard not to find a hiking trail in Alaska. For an especially scenic route, try Crow Pass Trail, a 28-mile hike connecting Eagle River and Girdwood. Not hiking 28 miles with the kids, you say? No problem. Some of the best wildlife viewing happens in the first two or three miles. Look for arctic ground squirrels and hoary marmots
Girdwood
This fun resort town is a gorgeous 40-minute drive around Turnagain Arm from Anchorage. The town holds festivals throughout the summer, including the Fiddlehead Festival, the Forest, the Blueberry Festival, and the Fungus Fair. That's right. A celebration of fungus, complete with naturalist presentations, and an outdoor concert. Check with the Girdwood Chamber for festival dates.
The Roundhouse at Alyeska Museum
While you're in Girdwood, stop in and see this octagonal, historic mountaintop museum. The views alone are worth the trip.
Music in the Park
Pack a lunch and head to Anchorage's Peratrovich Park each Wednesday and Friday to enjoy free concerts featuring Alaska musicians and Native performers. If you have small children, come on Monday when there's music and activities just for the little ones.
Tony Knowles Coastal Trail
This 11-mile coastal trail starts in downtown Anchorage to Kincaid Park. You and your kids can watch for moose or even see a beluga whale from the trail's vista points. Walk or bike the trail with Denali as a backdrop.
See salmon in action
Stop by the William Jack Hernandez Sport Fish Hatchery in Anchorage between 8 a.m. and 4 p.m. to see hatchery activity in motion – the facility has about 100 tanks of sport fish. A path outside along Ship Creek gives you a good chance of spotting returning salmon.
Eagle River Nature Center
This nature center is a great place to let kids explore Alaska nature. The center, located within the Chugach State Park, is open year round. There is a parking fee of $5, but most programs are free and include guided nature education.
Ice Worm Safari
Each summer, U.S. Forest Service rangers lead intrepid explorers from the Begich, Boggs Visitor Center in Portage to the Byron Glacier snowfields to hunt this creepy crawly. Don't listen to practical jokers who want to tell you the worm is just a myth: It's a real thing. Icky, but real.
Enjoy wildlife
Potter Marsh is a great place for you and your family to spot waterfowl, muskrats, and moose. Getting to the Marsh, located at the southern end of the Anchorage Coastal Wildlife Refuge, also provides a stunning view of Turnagain Arm.
Trooper Museum
Learn the stories of the intrepid troopers who protect Alaska, and see a collection of law enforcement memorabilia from around the world. You might find a patch or a badge from your state in the museum's collection.
Anchorage Market & Festival
Each weekend in summer, Anchorage closes off a couple of streets downtown for its market and festival, bringing in local artists, musicians, and food. There's even a market for kids ages 8 to 16 to sell used toys, produce and fundraising items.
Pioneer Park
Visit the state's only historical theme park and see a gold rush town, pan for gold, visit a Native Alaska museum, tour a riverboat, see an aviation museum and historic houses. And that's just a few things you can do there.
Calypso Farm and Ecology Center
In the summer, the Calypso Farm and Ecology Center hosts a free, open house with live music, food tasting, demonstrations of natural wool dyeing and wood-fired pizzas. It also has sheep shearing demonstrations during its Wool Day in April.
Aurora borealis
Viewing the northern lights is one of the most iconic experiences you and your kids can have while staying in Alaska, and they can't charge you admission to it. Pick a place outside the city – particularly if you're visiting Fairbanks, one of the best places to view this phenomenon – and watch the light show. Ester Dome is a favorite viewing spot.