Gold Panning with Prospector John
Back to Excursions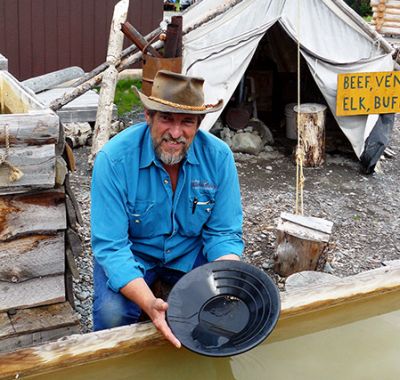 Kenai Princess Wilderness Lodge
Duration

Approximately 1 1/2 hours

Price From

$29.95 Per Person
Try your hand in gold panning at Prospector John's Gold Panning store in rustic Cooper Landing—a town rich in gold mining, early settlers and Alaska Native history. This tour takes you back to the days of the Gold Rush as Prospector John takes you through the steps of modern and old-time gold panning techniques.
After a quick panning lesson, you'll pick up your free treasure map and receive your own poke (a full bucket) filled with rich pay dirt from a working Alaska mine area. Next you'll learn how to use a sluice box (panning this much pay dirt by hand might take you several hours).
Finally, you'll collect all your black sands and heavy concentrates so you can pan out and uncover your gold. Your "find" will be placed in a glass vial for you to take home as a memento of an experience you're sure to treasure.
SPECIAL NOTE
Dress in warm layers. Wear sturdy, comfortable walking shoes.
CALL 800.426.0500 TO BOOK
---
KENAI EXCURSIONS
An array of optional excursions is available at Kenai Princess Wilderness Lodge. To add an activity to your stay, please call 1-800-426-0500 for reservations or visit the Tour desk at Kenai Princess Wilderness Lodge.
PURCHASE LAND EXCURSIONS
Princess is pleased to offer you the ability to purchase your excursions for the land portion of your cruise tour using the Cruise Personalizer at princess.com. Included is a list of land excursion options customized to best fit your itinerary with detailed information about each excursion. When you are ready to purchase your land excursions, go to the Cruise Personalizer and have your booking number and credit card information ready to enter. Princess accepts Princess Visa, Visa, MasterCard, American Express, Discover and Diner's Club. Confirmed excursions can be viewed at any time in your detailed itinerary in the Cruise Personalizer and will also be listed on your Welcome Envelope that you'll receive at each cruise tour location during your Princess Land & Sea Vacation. Land excursions may be cancelled up to three (3) days prior to travel without a cancellation fee. Cancellations made within three (3) days of travel are 100% non-refundable. Note that excursion availability is based on cruise tour date, capacity limitations and suitable weather conditions. Land excursions are subject to change at any time and are available on a first-come, first-serve basis. Guests are encouraged to book early as space is limited and flightseeing tours in particular may not be available right up to tour departure date. Prior to travel, print your Travel Itinerary which will have a list of all your confirmed land excursions. Make your cruise tour with Princess an even more memorable one and purchase your land excursions today.
CANCELLATION POLICY
Alaska Land Excursions, purchased through the Cruise Personalizer, may be cancelled up to three days prior to travel without any cancellation fees. Land Excursions cancelled prior to the cancellation deadline will be refunded to the credit card that you provided in the Cruise Personalizer to purchase your tours. Excursions cancelled within three (3) days prior travel are subject to a 100% cancellation fee, unless the operator, at their sole discretion, is unable to operate the program due to unforeseen circumstances. All sales of tours booked while on your land tour are considered final at the time of purchase and are 100% non-refundable except in the case of an operator approved cancellation.