Gold Panning at Prospector John's
Back to Excursions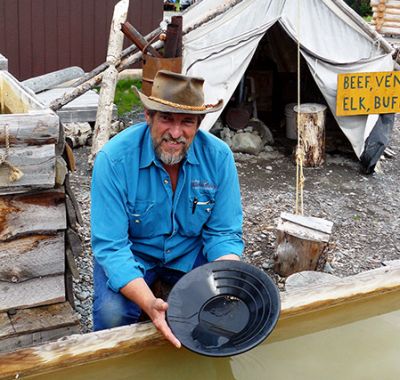 Kenai Princess Wilderness Lodge
Duration

Approximately 1 1/2 hours

Price From

$39.95 Per Person
Learn and experience the ABC's of gold panning and gold mining, starting your adventure with locally-sourced raw gold ore. Miners of old and still today begin with raw gold ore – so will you! This tour is one of a kind, guiding you through the entire mining and panning process. Gold panning is actually the final step of many steps along the way. Enjoy an authentic experience and go home with new knowledge. Shovel, bucket, scoop, sluice box, gold pan, snuffer, vial, all tools of the miner. You will use each of these tools as you mine your very own bucket of ore from start to finish. The gold you take home is the reward for your efforts, that along with great memories, stories, and laughs!
The store and mining operation are surrounded by gorgeous mountain scenery including an unrivaled view of Langille Mountain, elevation 4,422 feet. It is not uncommon to spot Bighorn Sheep at the higher elevations of the mountain! This is an easy and fun experience for friends, families, grandparents, teens, children, and solo sojourners, and anyone wishing to answer the call of gold fever.
SPECIAL NOTE
Outdoor activity. Dress in warm layers. Wear sturdy, comfortable walking shoes.
CALL 800.426.0500 TO BOOK
---
KENAI EXCURSIONS
An array of optional tours is available at the Kenai Princess Wilderness Lodge during the summer season. To add an activity to your stay, please call 1-800-426-0500 for reservations or visit the Tour Desk at Kenai Princess Wilderness Lodge.
PURCHASE LAND EXCURSIONS
Land excursions may be cancelled up to four (4) days prior to travel without a cancellation fee. Cancellations made within three (3) days of travel are 100% non-refundable. Note that excursion availability is based on cruise tour date, capacity limitations and suitable weather conditions. Land excursions are subject to change at any time and are available on a first-come, first-serve basis. Guests are encouraged to book early as space is limited. Prior to travel, print your Travel Itinerary which will have a list of all your confirmed land excursions. Make your cruise tour with Princess an even more memorable one and purchase your land excursions today.
CANCELLATION POLICY
Land Excursions cancelled prior to the cancellation deadline will be refunded to the credit card that you provided to purchase your tours. Excursions cancelled within three (3) days prior travel are subject to a 100% cancellation fee, unless the operator, at their sole discretion, is unable to operate the program due to unforeseen circumstances. All sales of tours booked while on your land tour are considered final at the time of purchase and are 100% non-refundable except in the case of an operator approved cancellation.