Ultimate Denali Hike & Flight
Back to Excursions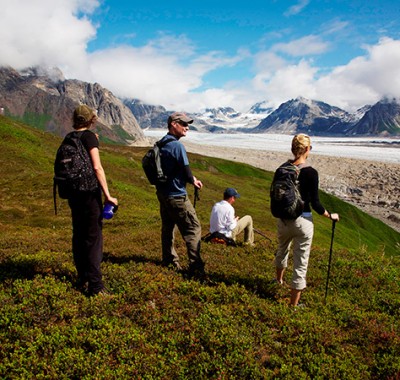 Mt. McKinley Princess Wilderness Lodge
Duration

Approximately 6 1/2 - 7 1/2 hours (Depending on whether guests depart from the lodge or the rail depot.)

Price From

$545.95 Adult
$489.95 Child
Snack Included
Off the Beaten Path
Strenuous Activity Level
Shopping Opportunities
Take off in a seaplane for a fantastic journey deep into Denali's remote backcountry. Your flight will take you through the Great Gorge for an awe-inspiring up-close views and an opportunity to view the great one, Denali (formerly Mt. McKinley). Your seaplane will land on a small glacier, Lake Moraine, under Mt. Church, 12 miles from Denali's 20,320 foot summit and between the Backside and Ruth Glaciers. Hike off trail with your small group into Alaska's most amazing remote wilderness areas. Unlike other trips into the park, you and your guides will be among the few in this area of Denali. Experience clear streams, grassy heather slopes, snowy and spectacular views of the winding glacier below. Return to Talkeetna after a truly amazing day in Alaska's roadless wilderness.
Special note
Minimum age is 8. Maximum weight is 400 lbs. Dress in warm layers. Wear comfortable walking shoes. Bring rain gear and bottled water. Tour operates subject to meeting a minimum number of participants. Tour takes place in Talkeetna. Transportation to and from excursion provided by the Mt. McKinley Princess Wilderness Lodge Talkeetna Shuttle. Flight time is approximately ½ hour with 2¼ hours of hiking.
CALL 800.426.0500 TO BOOK
---
MOUNT MCKINLEY EXCURSIONS
An array of optional tours are available at the Mt. McKinley Princess Wilderness Lodge. To book, visit the Tour Desk at the lodge or call 1-800-426-0500.
PURCHASE LAND EXCURSIONS
Princess is pleased to offer you the ability to purchase your excursions for the land portion of your cruise tour using the Cruise Personalizer at princess.com. Included is a list of land excursion options customized to best fit your itinerary with detailed information about each excursion. When you are ready to purchase your land excursions, go to the Cruise Personalizer and have your booking number and credit card information ready to enter. Princess accepts Princess Visa, Visa, MasterCard, American Express, Discover and Diner's Club. Confirmed excursions can be viewed at any time in your detailed itinerary in the Cruise Personalizer and will also be listed on your Welcome Envelope that you'll receive at each cruise tour location during your Princess Land & Sea Vacation. Land excursions may be cancelled up to three (3) days prior to travel without a cancellation fee. Cancellations made within three (3) days of travel are 100% non-refundable. Note that excursion availability is based on cruise tour date, capacity limitations and suitable weather conditions. Land excursions are subject to change at any time and are available on a first-come, first-serve basis. Guests are encouraged to book early as space is limited and flightseeing tours in particular may not be available right up to tour departure date. Prior to travel, print your Travel Itinerary which will have a list of all your confirmed land excursions. Make your cruise tour with Princess an even more memorable one and purchase your land excursions today.
CANCELLATION POLICY
Alaska Land Excursions, purchased through the Cruise Personalizer, may be cancelled up to three days prior to travel without any cancellation fees. Land Excursions cancelled prior to the cancellation deadline will be refunded to the credit card that you provided in the Cruise Personalizer to purchase your tours. Excursions cancelled within three (3) days prior travel are subject to a 100% cancellation fee, unless the operator, at their sole discretion, is unable to operate the program due to unforeseen circumstances. All sales of tours booked while on your land tour are considered final at the time of purchase and are 100% non-refundable except in the case of an operator approved cancellation.