Explore Cooper Landing
Back to Excursions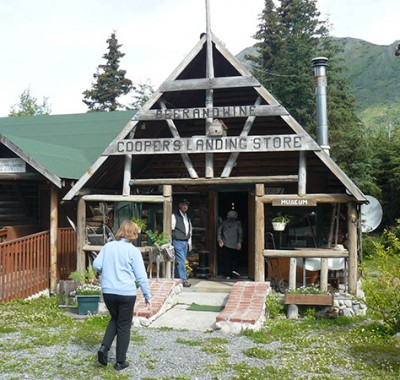 Kenai Princess Wilderness Lodge
Duration

Approximately 3 hours

Price From

$35.95 Per Person
Moderate Activity Level
Shopping Opportunities
Explore and immerse yourself in the beauty and splendor of this historic settlement along the Kenai River! Surrounded by the Chugach Mountains, this tour takes you to stunning lookout spots, a friendly log cabin homestead with long-time local 'Larry' to share stories of the past, the local museum and gives you a chance to meet dog musher Lorraine's sled dogs and to take great photos of the huskies!
Enjoy a gold panning demo complete with authentic canvas wall tent camp! Learn how the Dena'ina Indian natives lived and thrived and visit an actual home site used over 200 years ago! The final stop, the local cemetery which promises to intrigue you as none other you have seen! Hear stories of the pioneers as you keep a watchful eye fur for wildlife along the way.
Your guide is an expert on the history of the area and combines this with more than 20 hears as a dog musher, boat captain and over 30 years living the Alaska lifestyle! You travel in a clean, 13 passenger van for the best intimate experience. Receive the most unique souvenir to remember your adventurous day in Cooper Landing!
Special Note
Wear comfortable walking shoes. Bring a jacket, hat, gloves and a camera. Wildlife sightings are likely but not guaranteed.
Call 800.426.0500 to book
---
Kenai Excursions
An array of optional excursions is available at Kenai Princess Wilderness Lodge. To add an activity to your stay, please call 1-800-426-0500 for reservations or visit the Tour desk at Kenai Princess Wilderness Lodge.
Purchase Land Excursions
Princess is pleased to offer you the ability to purchase your excursions for the land portion of your cruise tour using the Cruise Personalizer at princess.com. Included is a list of land excursion options customized to best fit your itinerary with detailed information about each excursion. When you are ready to purchase your land excursions, go to the Cruise Personalizer and have your booking number and credit card information ready to enter. Princess accepts Princess Visa, Visa, MasterCard, American Express, Discover and Diner's Club. Confirmed excursions can be viewed at any time in your detailed itinerary in the Cruise Personalizer and will also be listed on your Welcome Envelope that you'll receive at each cruise tour location during your Princess Land & Sea Vacation. Land excursions may be cancelled up to three (3) days prior to travel without a cancellation fee. Cancellations made within three (3) days of travel are 100% non-refundable. Note that excursion availability is based on cruise tour date, capacity limitations and suitable weather conditions. Land excursions are subject to change at any time and are available on a first-come, first-serve basis. Guests are encouraged to book early as space is limited and flightseeing tours in particular may not be available right up to tour departure date. Prior to travel, print your Travel Itinerary which will have a list of all your confirmed land excursions. Make your cruise tour with Princess an even more memorable one and purchase your land excursions today.
Cancellation Policy
Alaska Land Excursions, purchased through the Cruise Personalizer, may be cancelled up to three days prior to travel without any cancellation fees. Land Excursions cancelled prior to the cancellation deadline will be refunded to the credit card that you provided in the Cruise Personalizer to purchase your tours. Excursions cancelled within three (3) days prior travel are subject to a 100% cancellation fee, unless the operator, at their sole discretion, is unable to operate the program due to unforeseen circumstances. All sales of tours booked while on your land tour are considered final at the time of purchase and are 100% non-refundable except in the case of an operator approved cancellation.