Arctic Circle Air Adventure
Back to Excursions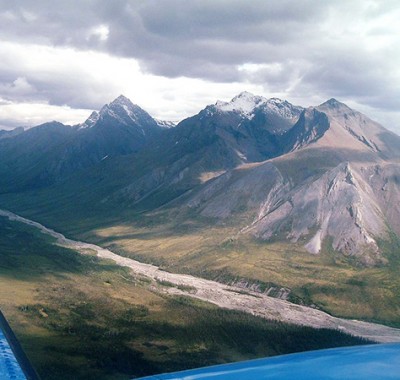 Denali Princess Wilderness Lodge
Duration

Approximately 7 hours

Price From

$519.95 Per Person
Moderate Activity Level
Shopping Opportunities
Cross the Arctic Circle! A circular land mass encompassing the earth's farthest north polar regions, the Arctic Circle formally marks the "Land of the Midnight Sun." The Arctic Circle Air Adventure takes you north from Denali across the expansive Yukon River Valley and into the Brooks Mountain Range (the Alaska Rockies) before landing just east of the gates of the Arctic National Park at Coldfoot, Alaska. The 2½ hours spent on the ground north of the Arctic Circle focus on visits to two very different wilderness communities, Wiseman and Coldfoot, both offering the unique opportunity to learn firsthand how the very few residents living in this remote arctic region have adopted creative strategies for surviving extreme winter temperatures that can drop to -80 F. Earn an Arctic Circle Certificate upon return.
SPECIAL NOTE
Maximum weight is 340 lbs. Tour operator will confirm daily if weather conditions are suitable for flight. In the event this tour has to be cancelled due to weather, tour hosts will make their best attempt to reschedule your excursion. If rescheduling is not possible, a full refund will be made. Meals can be purchased during the tour and is at your own expense. Guests are required to check in with our tour desk to confirm weight. Flight time is approximately 2 hours. Time spent on the ground in the Arctic Circle is approximately 2½ hours. All flights are conducted in a nine-passenger, twin engine Piper Navajo Chieftain Aircraft.
CALL 888.425.1737 TO BOOK
---
DENALI EXCURSIONS
An array of optional tours is available at Denali Princess Wilderness Lodge during the summer season. To add an activity to your stay, please call 1-888-425-1737 for reservations or visit the Tour Desk at Denali Princess Wilderness Lodge.
PURCHASE LAND EXCURSIONS
Land excursions may be cancelled up to four (4) days prior to travel without a cancellation fee. Cancellations made within three (3) days of travel are 100% non-refundable. Note that excursion availability is based on cruise tour date, capacity limitations and suitable weather conditions. Land excursions are subject to change at any time and are available on a first-come, first-serve basis. Guests are encouraged to book early as space is limited. Prior to travel, print your Travel Itinerary which will have a list of all your confirmed land excursions. Make your cruise tour with Princess an even more memorable one and purchase your land excursions today.
CANCELLATION POLICY
Land Excursions cancelled prior to the cancellation deadline will be refunded to the credit card that you provided to purchase your tours. Excursions cancelled within three (3) days prior travel are subject to a 100% cancellation fee, unless the operator, at their sole discretion, is unable to operate the program due to unforeseen circumstances. All sales of tours booked while on your land tour are considered final at the time of purchase and are 100% non-refundable except in the case of an operator approved cancellation.