Itinerary – Alaska Tour Package 92j
Back To Tours
Tour
Prices (Per Person)
Availability
Book
Fairbanks / Denali / Mt. McKinley / Anchorage Rail Tour - 92J


5 Days / 4 Nights

$1,099.00: Standard Rate
Check Now
Book Now
5 Days / 4 Nights (Tour 92J)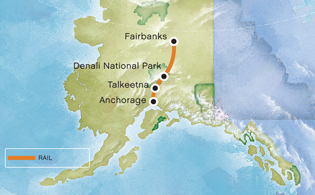 This five day/four night package takes full advantage of two great wilderness lodges only Princess can offer. You will have plenty of time to journey into the park on a wildlife search and explore the area. An overnight at the beginning and end of this tour, makes it the ideal package for the leisure traveler.
Included in your Tour:
Package includes an overnight at the beginning and end of the tour in Fairbanks and Anchorage, rail travel between Fairbanks and Denali, rail or motorcoach travel between Denali and Mt. McKinley Princess Wilderness Lodge, overnights in both locations, and rail travel from Talkeetna to Anchorage. All transfers between airport, hotels and rail depots are included.
Day 1
Arrive in Fairbanks and transfer to your hotel. Take in the sights of Alaska's Golden Heart City, Fairbanks! Spend your day exploring the city famous for gold discovery at the turn of the century. Take a tour of the Chena River aboard an authentic Riverboat, or try your luck at gold panning at Gold Dredge 8! Overnight at Fairbanks hotel.
Day 2
Departs From:

Fairbanks, 8:15 AM (Train Departs Fairbanks Depot)

Arrives At:

Denali, 12:15 PM (Train Arrives Denali Depot)
Transfer from your hotel to the rail depot. Your rail adventure begins aboard your luxury railcar as you depart the Fairbanks rail station, southbound to Denali National Park. Upon arrival, you will be transferred to your Denali-area hotel. A half day is available for optional tours and exploration. Overnight at Denali-area hotel.
Day 3
Departs From:

Denali, 9:15 AM (Train Departs Denali Depot)

Arrives At:

McKinley, 1:40 PM (Train Arrives Talkeetna Depot)
Enjoy a leisurely morning before transfering to the rail depot for your trip to Talkeetna and the Mt. McKinley Princess Wilderness Lodge. The evening is yours to explore, enjoy a soak in our outdoor hot tubs or simply relax in the Great Room and savor views of Denali. Overnight at Mt. McKinley Princess Wilderness Lodge.
Day 4
Departs From:

McKinley, 1:55 PM (Train Departs Talkeetna Denali Depot)

Arrives At:

Anchorage, 5:00 PM (Train Arrives Anchorage Depot)
This morning explore the region with an outdoor adventure that matches your every whim. Go kayaking on Byers Lake or try your hand at sport fishing. An array of tour options are available to purchase at the tour desk. This afternoon transfer to the Talkeetna rail depot where you will board a luxury railcar for a memorable rail trip south. Upon arrival into Anchorage, transfer to the your hotel. Overnight at Anchorage hotel.
Day 5
Relax in your room in Anchorage or if you're not quite ready for the adventure to end, venture an hour from Anchorage to Portage Glacier on an optional glacier cruise! Journey aboard the mv Ptarmiganon an unforgettable cruise to the face of Portage Glacier. Transfer to the airport for your trip home.