Itinerary – Alaska Tour Package 72I
Back To Tours
Tour
Prices (Per Person)
Availability
Book
Anchorage / Mt. McKinley / Denali / Fairbanks Rail Tour - 72I


3 Days / 2 Nights

$749.00: Standard Rate
Check Now
Book Now
3 Days / 2 Nights (Tour 72I)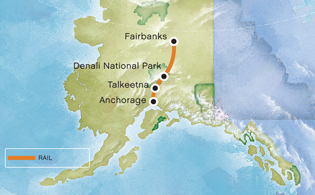 This three-day/two-night package offers you the opportunity to explore both the spectacular south Denali area and Denali National Park. With overnights in two unique lodges in the Denali area, you are sure to maximize your experience.
Included in your Tour:
Package includes rail travel from Anchorage to Talkeetna depot, rail travel between Mt. McKinley Princess Wilderness Lodge and Denali, overnights in both locations, and rail travel from Denali to Fairbanks. Transfers and baggage handling from rail depots are included.
Day 1
Departs From:

Anchorage, 9:15 AM (Train Departs Anchorage Depot)

Arrives At:

McKinley, 12:15 PM (Train Arrives Talkeetna Depot)
Your adventure begins aboard luxury railcar as you depart the Anchorage rail station northbound to Talkeetna. Upon arrival to the Mt. McKinley Princess Wilderness Lodge, take advantage of the long hours of daylight for an optional tour and discover all this area has to offer. Overnight at Mt. McKinley Princess Wilderness Lodge.
Day 2
Departs From:

McKinley, 12:35 PM (Train Departs Talkeetna Depot)

Arrives At:

Denali, 4:40 PM (Train Arrives Denali Depot)
Enjoy a leisure morning before the transfer to Talkeetna, where you will board the train northbound to Denali National Park. Upon arrival at your Denali-area hotel, take advantage of our Tour Desk, where the helpful staff can plan all of your Denali area activities. Overnight at Denali.
Day 3
Departs From:

Denali, 4:00 PM (Train Departs Denali Depot)

Arrives At:

Fairbanks, 8:00 PM (Train Arrives Fairbanks Depot)
The morning is yours to explore Denali National Park. Take an optional tour into the park or perhaps try flightseeing. An array of tour options are available to purchase at the tour desk. Board a luxury railcar this afternoon, for a memorable trip north. Your tour ends upon arrival in Fairbanks.