Itinerary – Alaska Tour Package 92I
Back To Tours
Tour
Prices (Per Person)
Availability
Book
Anchorage / Mt. McKinley / Denali / Fairbanks Rail Tour - 92I


5 Days / 4 Nights

$1,099.00: Standard Rate
Check Now
Book Now
5 Days / 4 Nights (Tour 92I)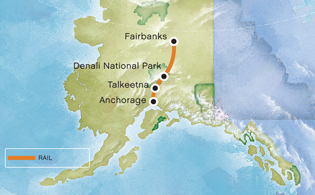 This five-day/four-night package offers you the opportunity to explore both the spectacular south Denali area and Denali National Park. With overnights in two unique lodges in the Denali area, you are sure to maximize your experience. Travelers seeking a leisurely paced tour will be pleased by overnights at the beginning and end of this tour.
Included in your Tour:
Package includes an overnight at the beginning and end of the tour in Anchorage and Fairbanks, rail travel between Anchorage and Talkeetna, rail or motorcoach travel between Mt. McKinley Princess Wilderness Lodge and Denali, overnights in both locations, and rail travel from Denali to Fairbanks. All transfers between airport, hotels and rail depots are included. Be sure to check for specials and offers.
Day 1
Arrive in Anchorage and transfer from the aiport to your hotel. Take in the sights of Alaska's largest city! Spend your day exploring the downtown shops and breathing in the salt air of the Cook Inlet. Overnight at Anchorage hotel.
Day 2
Departs From:

Anchorage, 9:15 AM (Train Departs Anchorage Depot)

Arrives At:

McKinley, 12:15 PM (Train Arrives Talkeetna Depot)
Transfer from your hotel to the Rail Depot. Your adventure begins aboard luxury railcar as you depart the Anchorage rail station northbound to Talkeetna. Upon arrival at the Mt. McKinley Princess Wilderness Lodge, take advantage of the long hours of daylight for an optional tour and discover all this area has to offer. Overnight at Mt. McKinley Princess Wilderness Lodge.
Day 3
Departs From:

McKinley, 12:35 PM (Train Departs Talkeetna Depot)

Arrives At:

Denali, 4:40 PM (Train Arrives Denali Depot)
Enjoy a leisurely morning before transfering to Talkeetna and boarding the train for your trip northbound to Denali National Park. Upon arrival at your Denali-area hotel, take advantage of our Tour Desk, where the helpful staff can plan all of your Denali area activities. Overnight at Denali-area hotel.
Day 4
Departs From:

Denali, 4:00 PM (Train Departs Denali Depot)

Arrives At:

Fairbanks, 8:00 PM (Train Arrives Fairbanks Depot)
The morning is yours to explore Denali National Park. Take an optional tour into the park or perhaps try flightseeing. An array of tour options are available to purchase at the tour desk. Transfer to the rail depot this afternoon to board a luxury railcar, for a memorable trip north. Upon arrival into Fairbanks, transfer to your hotel. Overnight at Fairbanks hotel.
Day 5
Enjoy a morning in the Golden Heart City! Explore the area famous for its discovery of gold at the turn of the Century. If you have the time, experience a trip down the Chena river aboard a Sternwheeler or try your luck at Gold panning on our Gold Dredge 8 tour. Transfer to the airport for your trip home.